One food that has completely rocked my clean eating world is cauliflower rice. It has the appearance of rice, texture of rice and takes on the flavor of whatever you cook it with. My Whole30 Cauliflower Spanish Rice is also Keto friendly and it's is a healthy side dish that is a delicious compliment to any of my Mexican food recipes.
My family loves Mexican food and we have it on the menu at least once a week. While they were eating rice, beans and tacos I was sticking to my clean eating plan by eating a taco salad with my homemade creamy cilantro dressing. 
As always, I am constantly thinking of how I can recreate family favorite recipes and make them Whole30 compliant without sacrificing flavor or texture.
Cauliflower rice has been an awesome substitution for real rice in all of my recipes including my favorite homemade soups and my fake out take out fried rice.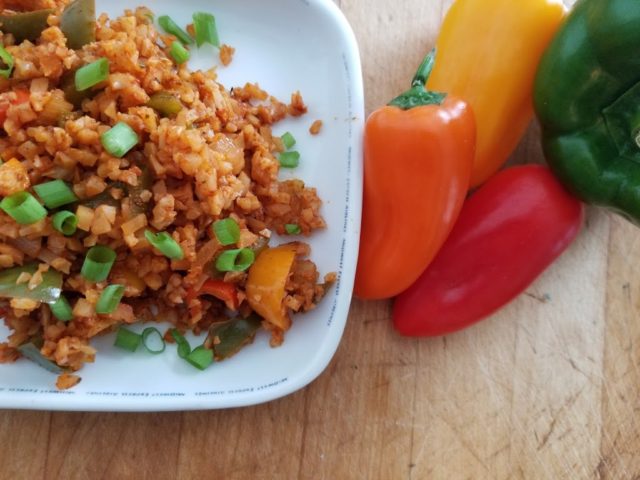 If you are so inclined, you can make cauliflower rice yourself by pulsing a head of cauliflower in a food processor but I'd rather forego the clean up and open a bag of frozen cauliflower rice.
My two favorite frozen brands are Cascadian Farms Organic Cauliflower Rice and Trader Joe's Cauliflower Rice. I literally keep it stocked in my freezer at all times.
Whole30 Cauliflower Spanish Rice Ingredients
1 TBSP olive oil

1 TBSP ghee (butter if you aren't doing Whole30)

1/2 cup onion, chopped

1/2 cup cherry tomatoes, chopped

1 small green pepper, chopped

1 small red pepper, chopped

2 TBSP of tomato paste

1 Tsp chili powder

1 Tsp cumin 

1 Tsp smoked paprika

1 Tsp garlic powder

1 Tsp onion powder

dash of cayenne pepper, optional

1 TBSP fresh cilantro, chopped

Salt and pepper
Saute veggies on medium heat in olive oil and butter with a sprinkle of salt until peppers are soft and onions are translucent. Add 2 TBSP of tomato paste to veggies and thin out with 2 TBSP of water. Add dry spices of chili powder, cumin, paprika, garlic powder, onion powder and cayenne pepper and stir to evenly distribute. Add bag of frozen cauliflower rice and stir to incorporate and evenly coat with veggies, spices and tomato paste. Cover with a lid and continue to stir on occasion for approximately 10 minutes to prevent rice from burning and sticking to the pan. Remove from heat and let sit covered for 5-10 minutes. Cauliflower rice should be heated through and tender when done. Season with salt and pepper to taste and sprinkle with fresh chopped cilantro.
While Whole30 cauliflower Spanish rice is an amazing side dish, I have also mixed it with taco meat and topped it with a fried egg and avocado for breakfast. Yum!