There is a local restaurant that I frequent often and they have the most amazing creamy cilantro salad dressing. I could literally drink the stuff like a savory milkshake but I opted to create my own healthy and compliant Whole30 creamy cilantro salad dressing.
*This post contains affiliate links and you can read my full disclosure here.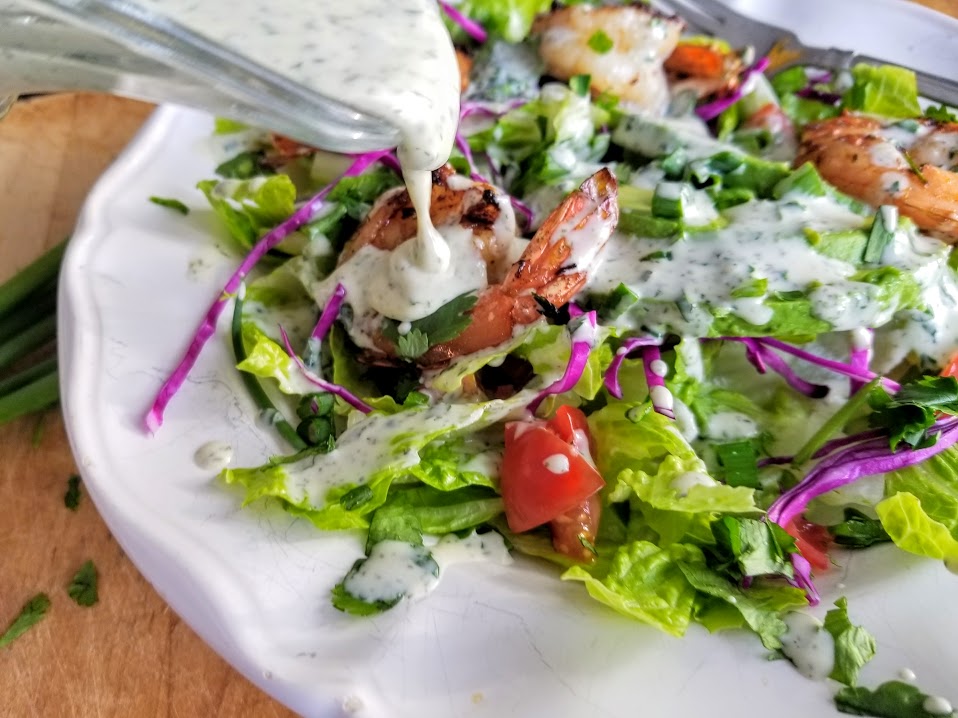 It's no secret that I love eating salad. At a minimum, I have salad for one meal per day. It is not out of character for me to have salad for breakfast and lunch.
But sometimes, salad becomes boring and I try to change it up with a different dressing or toppings. Toasted nuts really add a layer of flavor and crunch to my salads. Right now I am loving toasted pumpkin seeds or walnuts on my salad.
Changing up my salad dressing options helps keep my healthiest meal of the day from getting too repetitive. This Whole30 creamy cilantro salad dressing is a spin on my Whole30 Ranch Dressing. Simple to make with a few extra herbs.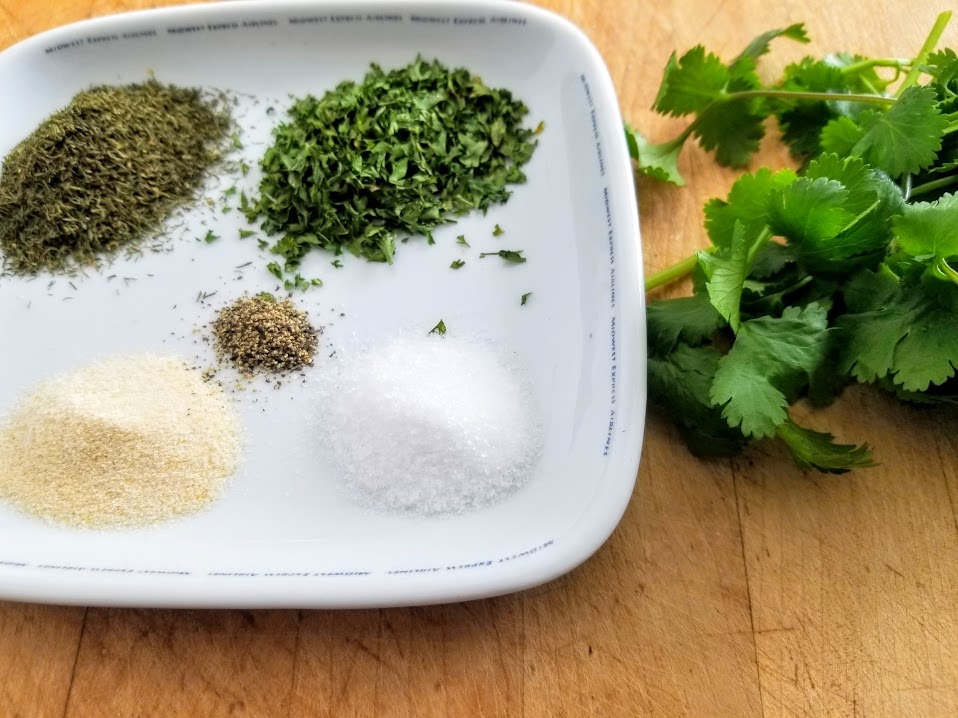 The more I make my own condiments (something I swore I would never do) the more I enjoy the enhanced flavors of my food. It really does make a huge difference that you won't notice until your palate has been cleansed of crap ingredients.
How to Make Whole30 Creamy Cilantro Salad Dressing
Like I said earlier, this dressing is made just like my Ranch Dressing but it has cilantro added to the combination of herbs.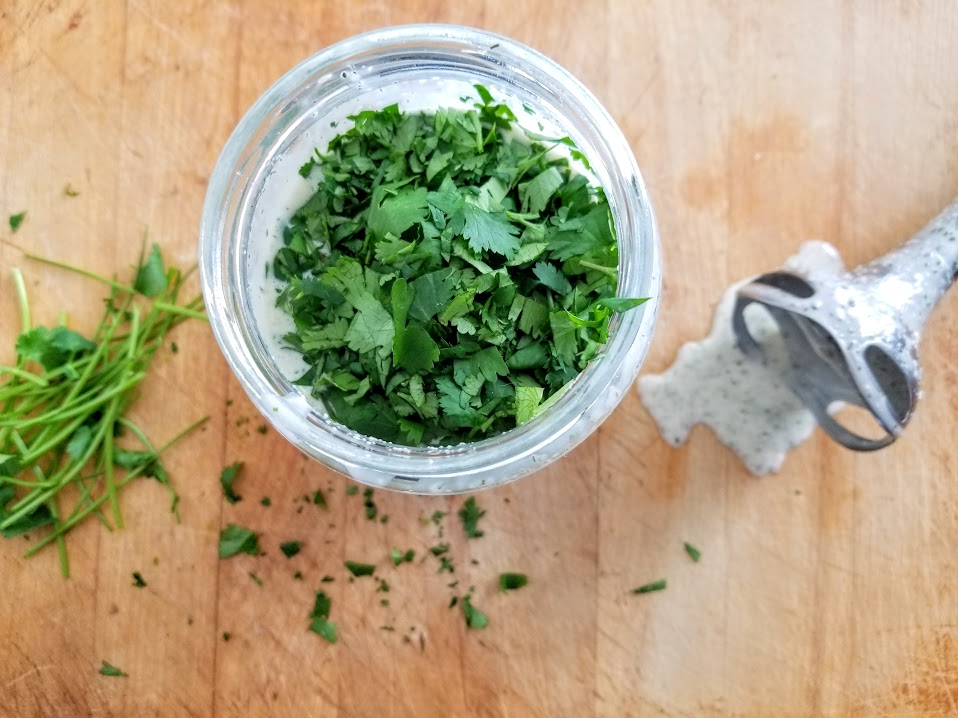 Also, if you don't have an immersion blender you need to get one here. They are very inexpensive and you can use it for making sauces, smoothies and soups.
1 cup light olive oil or avocado oil

1 egg

2 TBSP lime juice

1 TBSP red wine vinegar

generous pinch of salt and pepper

garlic clove, crushed

1 tsp of onion powder

1 TBSP of dried dill

2 TBSP of dried parsley

1 generous handful of fresh cilantro leaves, no stems

1/2 cup coconut milk
Add all of the ingredients into a wide mouthed jar (I reused a pickle jar) in the order listed above except the cilantro leaves and coconut milk. Insert immersion blender all the way to the bottom of the jar and turn on for 30 seconds without moving. You will see the ingredients start to blend, thicken and turn white. Then add the cilantro leaves and coconut milk. Move the immersion blender up and down to combine all ingredients for another 30 seconds.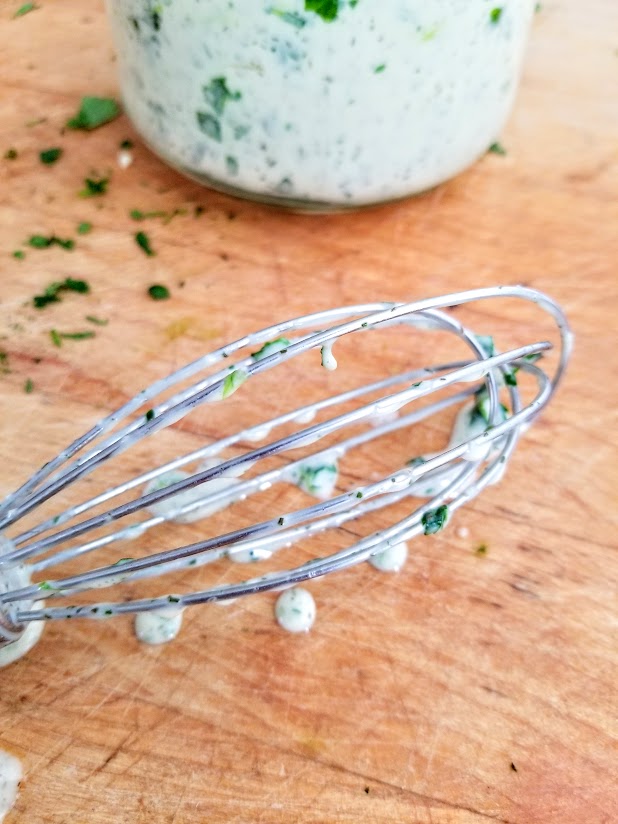 Tip: if the dressing is too thin for your liking, you can whisk in a tablespoon or two of homemade mayo to thicken it up or cut back on the coconut milk. 
My favorite way to enjoy this amazing salad dressing is drizzled over some cilantro lime grilled shrimp on a bed of crispy romaine lettuce.