The Inspired Makers throw down a monthly challenge and for our September challenge we've taken on (once again) the $100 Room Makeover! All it takes is $100, and 1 room needing an overhaul, update, refresh, restyle, or makeover. As always, follow along with #inspiredmakers and #inspiredmakerschallenge!
I was able to stay within budget when I did my Master Bedroom Closet Makeover and my Teenage Girl Bedroom Makeover so I figured it wouldn't be a problem to stay within budget by doing a Glamper Living Room Makeover but I was wrong. I went over budget by $10-15 and I still need to finish a few things. Regardless, I am sharing my Glamper Living Room Makeover today and I am thrilled with the results thus far.
Make sure you stop by and visit the other Inspired Makers as they are sure to get your creative juices flowing with their budget friendly room makeovers.
The Purple Hydrangea – Powder Room Makeover Under $100
1915 House – Small Budget Big Makeover Dining Room
Duct Tape and Denim – $100 Bathroom Makeover
Pearl Street Designs – $100 Home Office Makeover
My Thrifty House – Glamper Living Room Makeover
Shop At Blu – $100 Bathroom Makeover
Farmhouse Made – Affordable Dining Room Refresh… for $100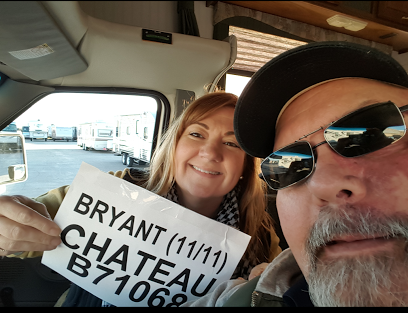 We purchased our used RV (aka The Bryant Chateau) last November with the intentions of doing a full remodel and create the ultimate glamper (aka retirement home on wheels). After the Mister did his mechanical inspection and tune-up I immediately made the My Thrifty Glamper makeover list.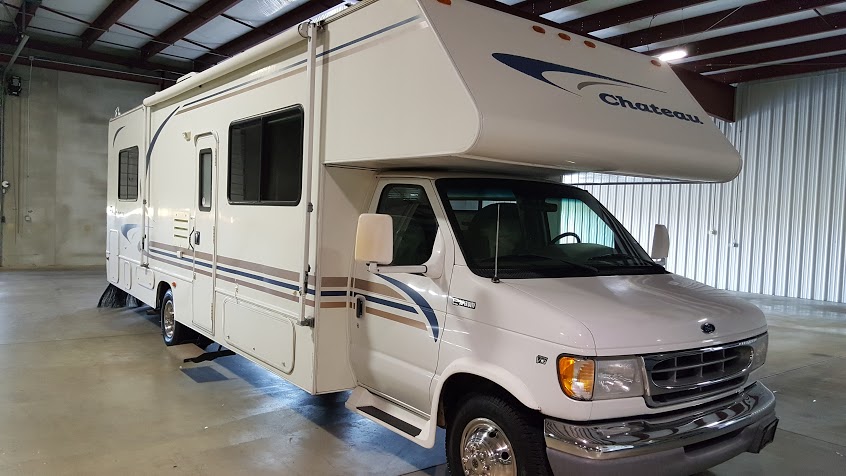 This glamper living room makeover is the first major project we have done since we purchased the RV. The number 3 item on my makeover list is "paint everything" and I can't get more specific than that because the walls, cabinets and ceiling need some serious help.
We purchased a $25 gallon of Behr white paint with primer from Home Depot for this makeover and I didn't even look at the color chips. White is white when it comes to a glamper living room makeover and quite honestly, anything is better than cheap brown cabinetry not to mention that I really didn't have the patience or time to compare shades of white paint.
Prior to painting we did a thorough cleaning, sanding and wipe down of the ceiling and cabinets. The cabinet frames are particle board with laminate and the doors are real wood. We also opted to reuse the gold hardware and give it a coat of black spray paint because there are over 20 drawer pulls and knobs between the kitchen and the living room not mention all of those hinges too. 
Next we worked on the flooring and started by removing all of the disgusting sage green furniture, dirty carpet and horrible window coverings. I can honestly say that the dark fake wood cabinets bothered me but the disgusting dirty sage green carpet literally made my skin crawl.
Surprisingly, the disgusting carpet came up with ease after we spent hours drilling out the bolts that held down the chairs. We headed straight to Lowe's to inventory their vinyl plank flooring options and chose a self sticking brown plank called Woodland Oak. I opted for the brown floor because I figured it would be a nice contrast against my white cabinets, grey walls, red accessories and blue chairs.
This is the exact peel and stick vinyl flooring we purchased in the color Antique Woodland Oak and I can't stress how easy it was to install.
We bought the vinyl plank flooring and immediately began laying it down after a thorough cleaning, sweeping and vacuuming of the plywood surface.
*Lesson learned: we should have painted the plywood surface with brown spray paint before putting down the planks because they shifted and moved after our last trip causing gaps between the planks. If the plywood was painted brown the gaps wouldn't have stood out so much but I made the Mister pull up and reapply some planks and we used a brown sharpie for the smaller gaps.
The kitchen area is right off the main living room and can't be ignored because it is a big part of the living space. Just like a real home the glamper kitchen is the heart of the home. The freezer was painted with chalkboard paint and we will be adding some press and stick subway tiles behind the stove top.
Next up on the glamper living room makeover was seating. Earlier in the year, we purchased an Ikea pull out sofa with a dark grey slipcover to play the dual role of seating by day and sleeping by night. I added a few throw pillows and a blanket to give a pop of red color to the room.
Across from the sofa bed I added two chairs from our basement and the gate leg table I had in my stash of flea market finds. When it came to the chairs, for a long time we were unsure as to what chairs we were going to put in the camper.  In the end, these chairs were given to me but need to be reupholstered. (That's a future DIY project.)
Artwork needs to be inexpensive and light enough to be attached to the wall with some velcro so it doesn't fall off or rattle endlessly while driving. This vintage map letter B from the Movie Monday Challenge is the perfect artwork for the glamper. I also made the huge map art sign above the cab with my favorite quote and made with Sharpie markers.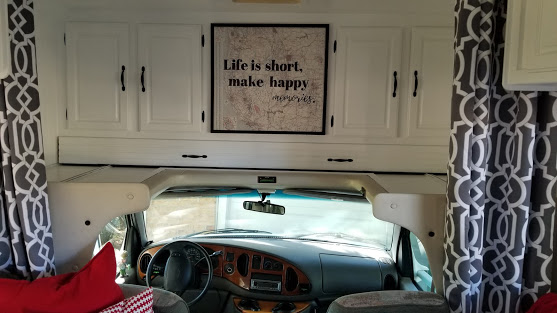 We didn't get to finish everything on our "to do" list this time but you can bet I will be replacing all of these boring plastic lights with the next round of our glamper living room makeover. I bought the awesome dark grey curtains on Amazon, I am also going to make some privacy curtains for the front cab window and we still have to order pull down shades for the side windows.
With these updates I am amazed with how much a coat of white paint makes all the difference with the space. Everything looks bigger, better and so fresh. With that being said, scroll down and take a look at what my friends have done with their $100 room makeovers and let these ladies inspire you to get creative.