This week I am sharing my budget friendly teenage girl bedroom makeover as part of a challenge I am participating in with my blogger friends. If you remember, last time I participated in a room challenge I shared with you my $100 master bedroom closet makeover.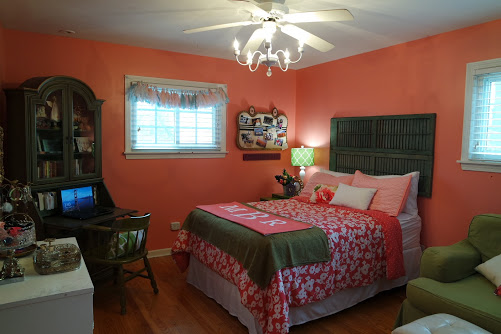 This $100 room makeover challenge was thrown down months ago and it was described as a one room makeover done with Champagne Taste on a Kool-Aid Budget. The only rule set for this challenge was that we couldn't spend more than $100 total for the chosen room. That $100 budget includes paint, supplies and décor.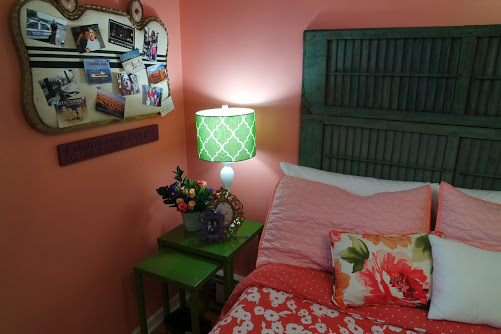 As you will see, I created a sophisticated coral, green and gold bedroom suitable for a teenage girl and I had lots of input from my 17 year old daughter. Below is a breakdown of the expenses and supplies needed to create this budget friendly room makeover.
Teenage Girl Bedroom Makeover Paint – $35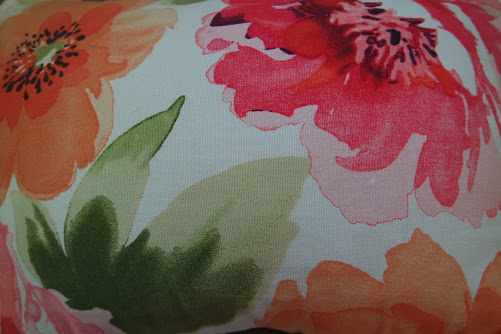 The easiest way to transform a room is with paint. My daughter chose a color palette that matched a floral throw pillow she had bought last year as her inspiration and asked for gold accents to be added to the room. She wanted her walls to go from a juvenile baby blue to a bright coral color.
Teenage Girl Bedroom Makeover Bedding – $30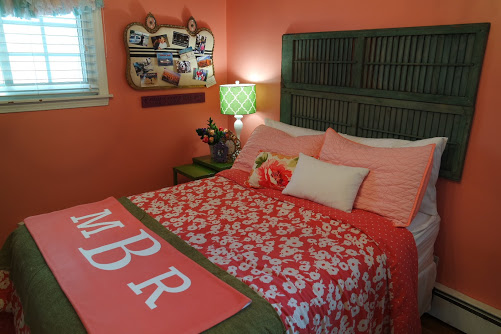 We didn't invest in a new mattress this time round, it was only 7 months ago we bought her a new memory foam mattress and she loves it! She also loves her bedding because she loves her reversible comforter that matches her coral colored walls however we did purchase new pillow shams and a bed ruffle.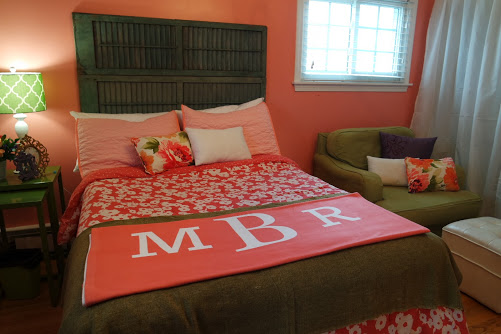 I received this customized monogrammed fleece throw blanket from the Shutterfly Home Decor Team. Yes, who knew that the same Shutterfly (<---- referral link) that prints photos and albums also has a entire line of Home Decor items that can be personalized? Candles, canvases, bedding, glassware, frames and so much more are available on their website.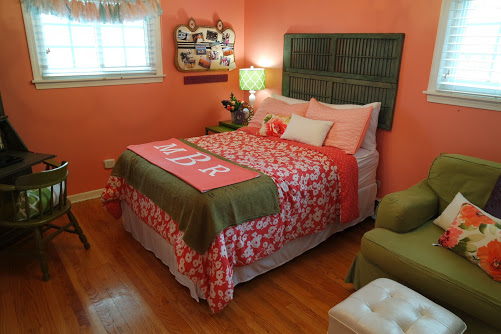 So when I was given the opportunity to work with the Shutterfly Home Decor Team I chose this personalized fleece throw blanket because anything monogrammed is timeless and never goes out of style. Not to mention this blanket is so incredibly soft and the perfect size for the end of my daughter's bed or for when she snuggles up in her reading chair.
Teenage Girl Bedroom Makeover Lighting- $15
My daughter requested that we update the lighting in her room but she didn't want to give up her ceiling fan. Um….yes, she is making this a bit difficult but luckily I have a husband that is super handy and he can take a silly idea and make it a reality. I went to the Habitat Re-Store and purchased an ugly brass light which was spray painted white and attached to the ceiling fan. Now she has a pretty light fixture with the option of keeping cool during the summer months.
Teenage Girl Bedroom Makeover Window Treatments – $6.98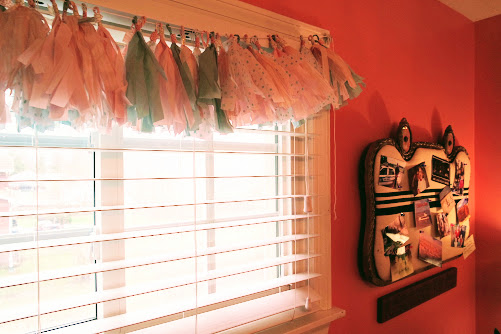 We opted to go with an non-traditional window covering for the teen bedroom makeover and added a tassel garland made from tissue paper. It adds a pop of color across the top of her blinds and it adds some whimsy too.
Teenage Girl Bedroom Makeover Gallery Wall- $10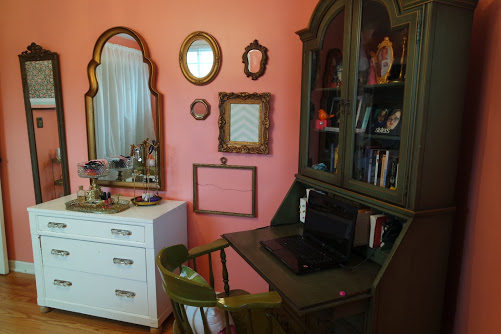 As I noted earlier, my daughter asked for gold accents throughout her room. Lucky for  me she likes vintage flea market finds as much as I do so adding gold accents wasn't a problem at all. I created a gallery wall for her using picture frames that we had collected during our junkin' outings at the flea markets and thrift stores.
Teenage Girl Bedroom Makeover Head Board- $0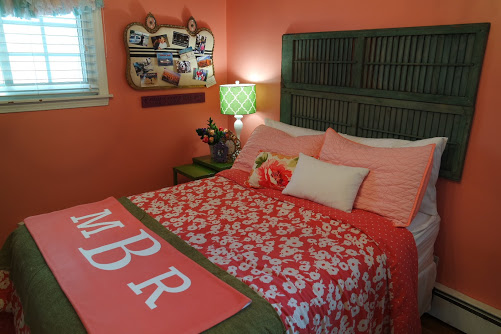 Part of the fun with a room makeover challenge is using items you already have and repurposing them in a different way. I have had these green shutters for over 20 years and they have served many decorative purposes over the years. They are now the perfect headboard for my daughter's room and match her color scheme perfectly.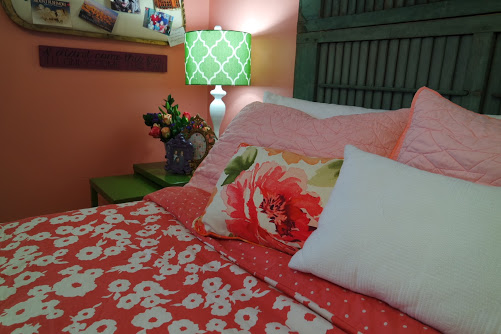 And there you have my budget friendly Teenage Girl Bedroom Makeover for less than $100. I was able to stay on budget and I only spent $96.98.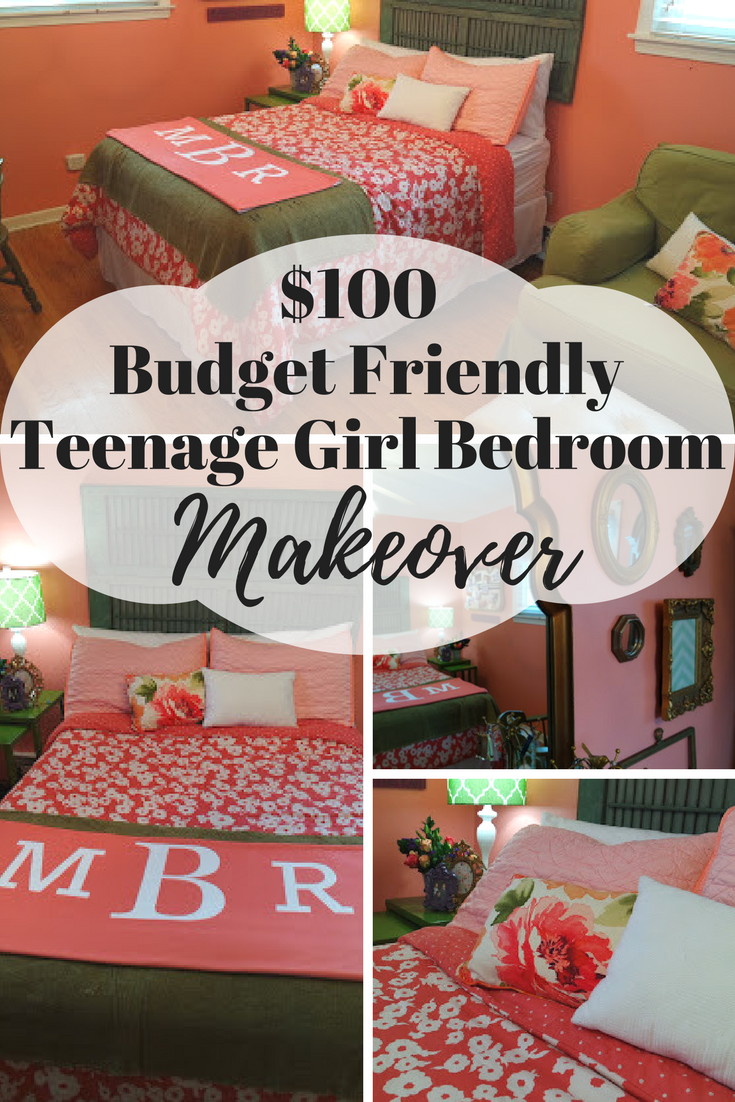 Now, please go take a look at what my blogging friends have done with their $100 as you won't be disappointed one bit. This is a very talented group of ladies and I am so proud to be part of such an awesome blogging network.