Family gatherings call for appetizers and lots of snacks. Whole30 buffalo chicken meatballs are my most requested appetizer when it comes to party snacks. They are the perfect serving size, skewered with a toothpick with just enough heat from the buffalo sauce to keep your taste buds awake.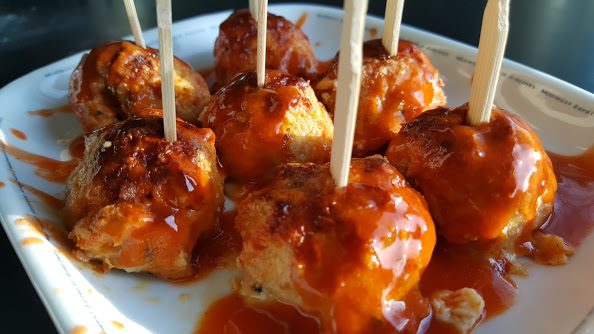 To be totally honest, I have a hard time keeping my hubby away from them. Once I take the chicken meatballs out of the oven, they rarely make it to the table because they are just so easy to pop right into your mouth.
You can also use them to make a healthy lunch. Take the buffalo chicken meatballs and top them with lettuce, shredded carrots, and a drizzle of homemade ranch dressing all rolled up into a low carb tortilla. Delicious!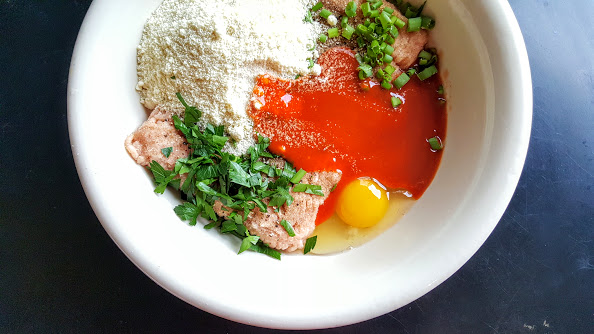 Ingredients Needed for Whole30 Buffalo Chicken Meatballs
As a side note,  I usually make a double batch of meatballs and freeze the extras.
1 pound ground chicken (ground turkey works too)
1/2 cup of almond flour
1/2 cup of chopped carrots
2-3 green onions chopped (including white tips)
1 tsp salt
1 tsp garlic powder
1 egg
1/4 cup Tessemae's Buffalo Sauce
In a bowl, add ground chicken, carrots and green onions. Add almond flour and seasonings. Add egg and buffalo sauce. Mix with your hands but be careful to not over mix at it tends to get gummy and sticky. If that happens you can add a little extra almond flour and put the mixture into the fridge and let it firm up a bit before making meatballs.
I used a small scoop to make uniform bite sized meatballs and put them on a baking sheet lined with parchment paper or in this case I used an oiled baking dish because I was out of parchment paper. Bake in the oven for 20 minutes at 350 degrees. Keep in mind, because chicken is a lean meat they won't shrink much and they won't get super brown in the oven.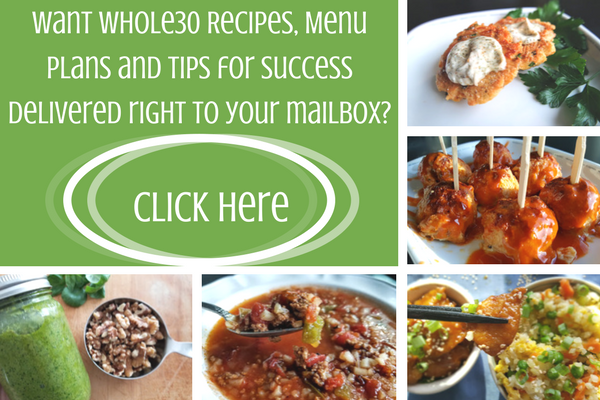 While the meatballs are still warm, I drizzle them with ghee and more buffalo ranch sauce to give them a nice shiny coating of heat. Additional sauce can be served on the side or drizzled over the top but it depends on how hot and spicy your guests like their buffalo chicken meatballs.
On a final note, these Whole30 buffalo chicken meatballs are so flavorful and delicious that nobody will know that they are eating healthy food. Make sure you pin this recipe to try later.