Today is the monthly Movie Monday Challenge and naturally our theme is Halloween movies. What scary movie traumatized you as a kid? Poltergeist is one of  the many movies that scared me and left me with many sleepless nights. These "You've Been Boo-zed" Halloween tags are my take on being haunted by a FUN ghost.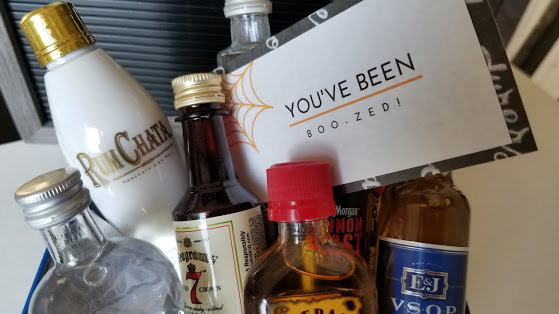 I am sure your family has been boo'd over the years. Someone rings your doorbell and you open the door to find a cute Halloween treat bag filled with goodies along with a note asking you to pass along the fun and boo a neighbor too.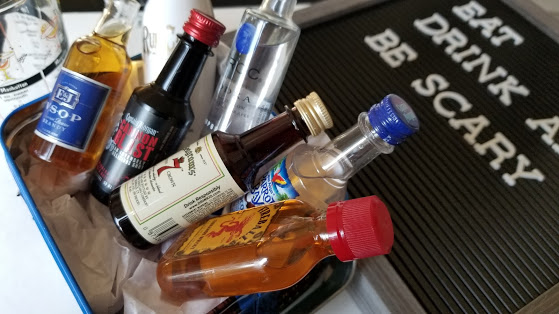 Who said Halloween is just for kids? These "You've Been Boo-zed Halloween tags are perfect for bringing some adult fun to your neighborhood.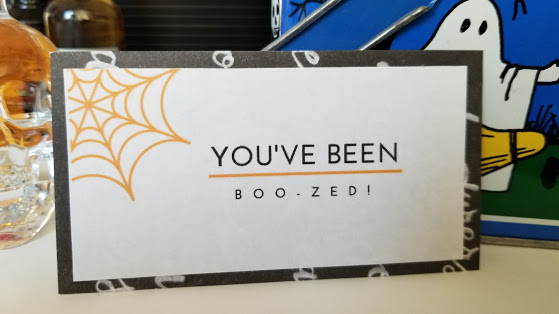 You can make your own You've Been Boo-zed Halloween tags or download my round tag printable or my rectangular card printable.
I picked up a variety of little bottles of booze at the liquor store but you can also share a big bottle of their favorite alcohol or wine. I added the You've Been Boo-zed Halloween tag to my gift and mounted it on black and white paper from my craft stash.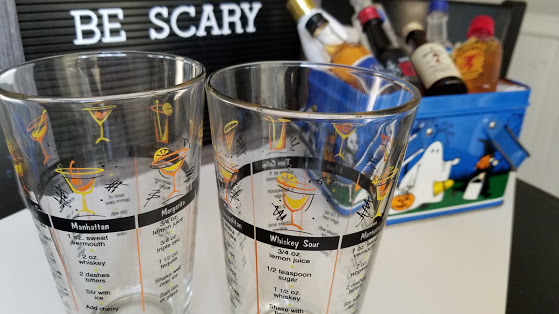 I also made a stop at the Dollar Store and found these pint glasses with different drink recipes.
While you're at it, why not include a recipe for my Black Martini aka Witches Brew? Yum!!!
Black Martini Recipe and Instructions
2 ounces of black vodka

1 ounce of Black Raspberry Chambord

2 ounces of Black Cherry Juice

Ice

Lime Juice

Sugar
Dampen rim of martini glass with lime juice and dip in sugar.
Add Vodka, Chambord and Black Cherry Juice into a shaker filled with ice. Shake until  cold (about 20 seconds). Strain the cocktail into the sugar rimmed martini glass and serve.
Movie Monday Challenge
As I said earlier, I am participating in the #MovieMondayChallenge which is hosted by C'mon Get Crafty! Make sure you scroll down to see what everyone else in the group was inspired to create for this month's challenge.  If you'd like to join our Facebook group, you can request an invite here.