I'm so excited that I joined a monthly Thrift Store Décor Upcycle Challenge because it is really going to motivate me to get my creative juices flowing and get some of these projects out of my head and complete. This month I am sharing my Vintage Frame Book Page Memo Board but first meet the amazing team of bloggers that are participating in this challenge.

The Rules:
Upcycle an item(s) from a thrift store, resale store, or garage sale into a new piece of decor.
There's no monthly theme.
There's no budget to stick to.
Meet the Hosts
Amanda | The Kolb Corner    Maureen | Red Cottage Chronicles    Kim | Made in a Day
Dru | Polka Dot Poplars    Erlene | My Pinterventures    Colleen | Life on Kaydeross Creek    Pili | Sweet Things
Shirley | Intelligent Domestications    Ann | Duct Tape and Denim    Debra | Shoppe No. 5    Marie | DIY Adulation
Chelsea | The Johnsons Plus Dog    Jes | My DIY Envy Lindsay | Crazy Organized
Molly | Just a Little Creativity    Ashley | 3 Little Greenwoods    Kimm | Reinvented    Michelle | Our Crafty Mom
 Sue | A Purdy Little House   Sara | Twelve on MainClaire | Pillar Box Blue     Chelc | Inside the Fox Den
Kim | Farmhouse Made       Victoria | Dazzle While FrazzledSherry | Savvy Apron
Jennifer and Vicki | 2 Bees in a Pod    Lora | Craftivity Designs    Megan | C'mon Get Crafty
Denise | My Thrifty House    Toni | Small Home Soul    Deborah | Salvage Sister and Mister
Make sure you follow our board on Pinterest for more upcycled decor inspiration!
---
Vintage Frame Book Page Memo Board
This book page memo board idea has been in my head and in my garage for over a year.  You see, I have this problem of too many ideas and not enough time plus I can't pass up an awesome deal on a vintage piece of trash that is calling my name.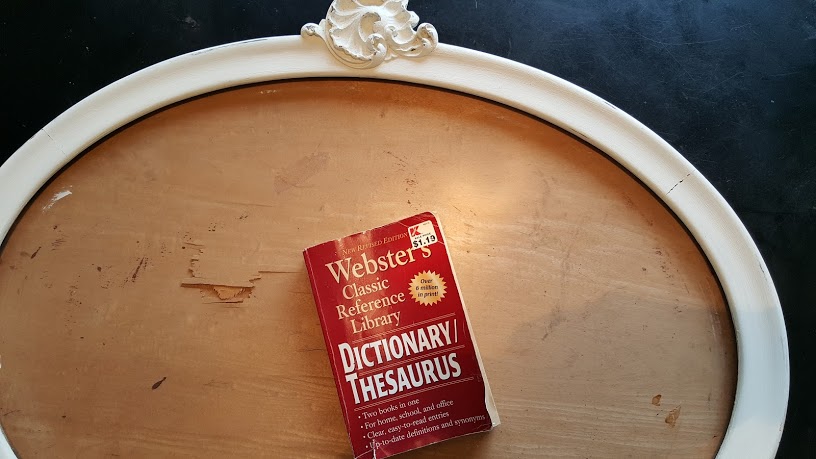 That was the case with this vintage frame. It used to be a mirror and I found it, minus the mirror, at the flea market for $25. I loved the shape of the frame and the ornate detail but definitely not the price. I went back and looked at it twice because I was trying to talk myself out of getting it but my mind was full of ideas on how I could upcycle it into a memo board.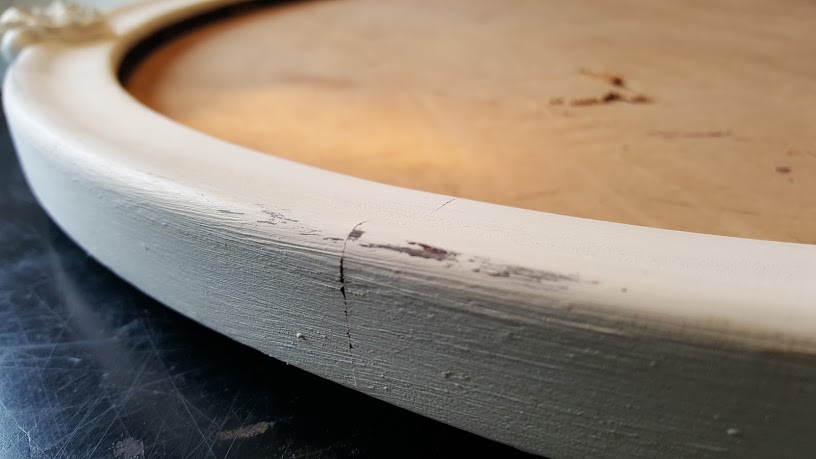 Lucky for me, the guy at the booth noticed me walking away (for the second time) and told me he would sell it to me for $5. Sold! I love when a dealer talks themselves down on an overpriced item. If it's something I can't live without I usually barter but this time I was on the fence until he cut me a sweet deal.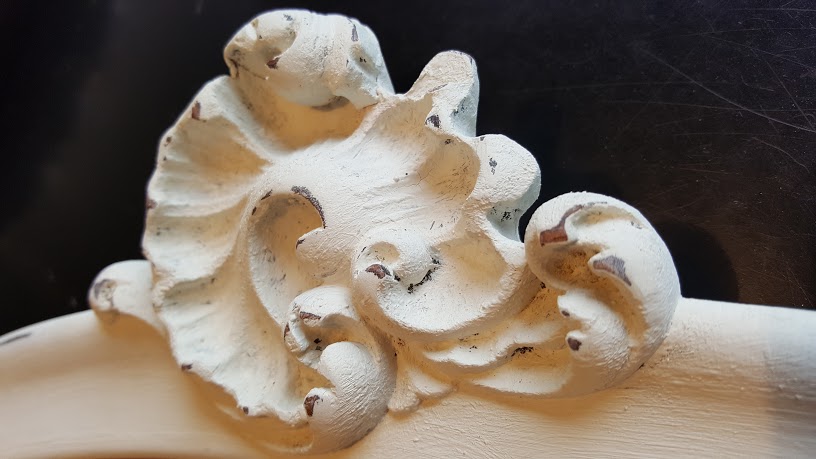 Unfortunately, I don't have any pictures of the vintage frame before I painted it with my homemade chalk paint but it was a dark mahogany wood that was also covered in scratches. My rule with wood pieces is it gets painted if it's scratched and damaged and this vintage frame was definitely dinged up and scratched beyond repair.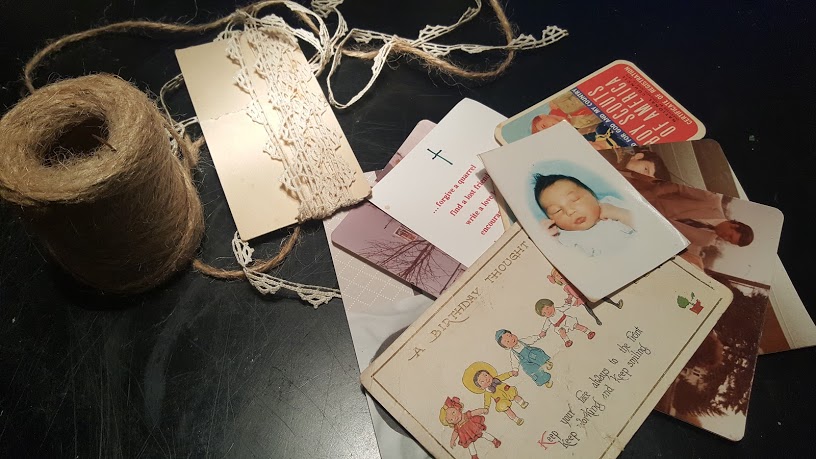 I thought about padding it and covering it with fabric but I happen to love the look of old book pages and I had a dictionary with missing and torn pages so it was an easy decision to make a book page memo board lined with the dictionary pages. As I was going through the dictionary I decided to pull pages with words that described me. Grateful. Daughter. Zany. Adequate. Greif-Stricken. Pray. Terrific. Hope. Happy.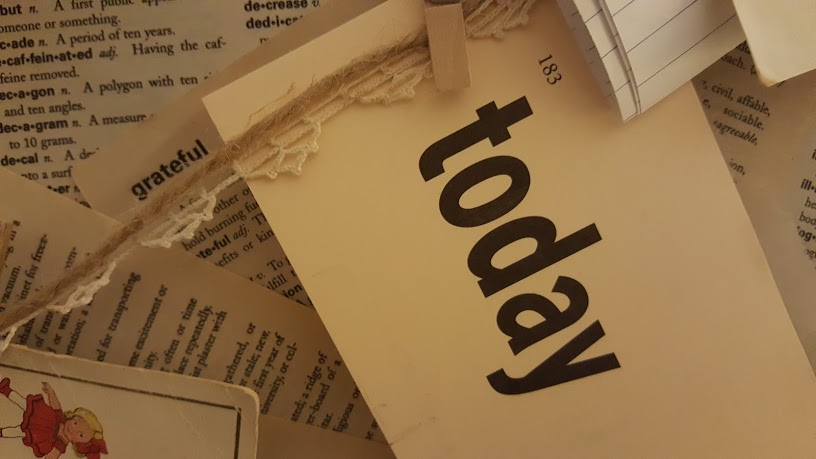 I was able to pull some twine and vintage lace to swag across the vintage frame and I used mini clothes pins to hang some special keepsakes.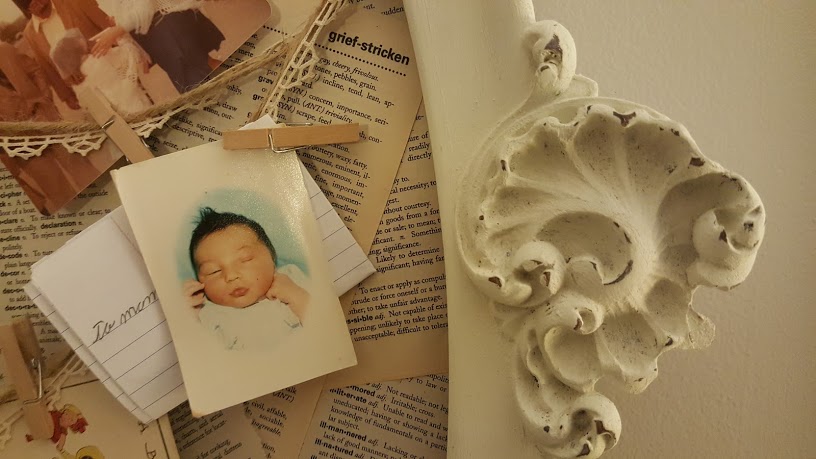 As you can see, it is an oval frame and it is intended to be hung horizontally except the wall space could only accommodate it being hung vertically and I  like it just the way it is.
If you love this book page memo board you might want to take a peek at my Book Page Wreath and my Book Page Garland.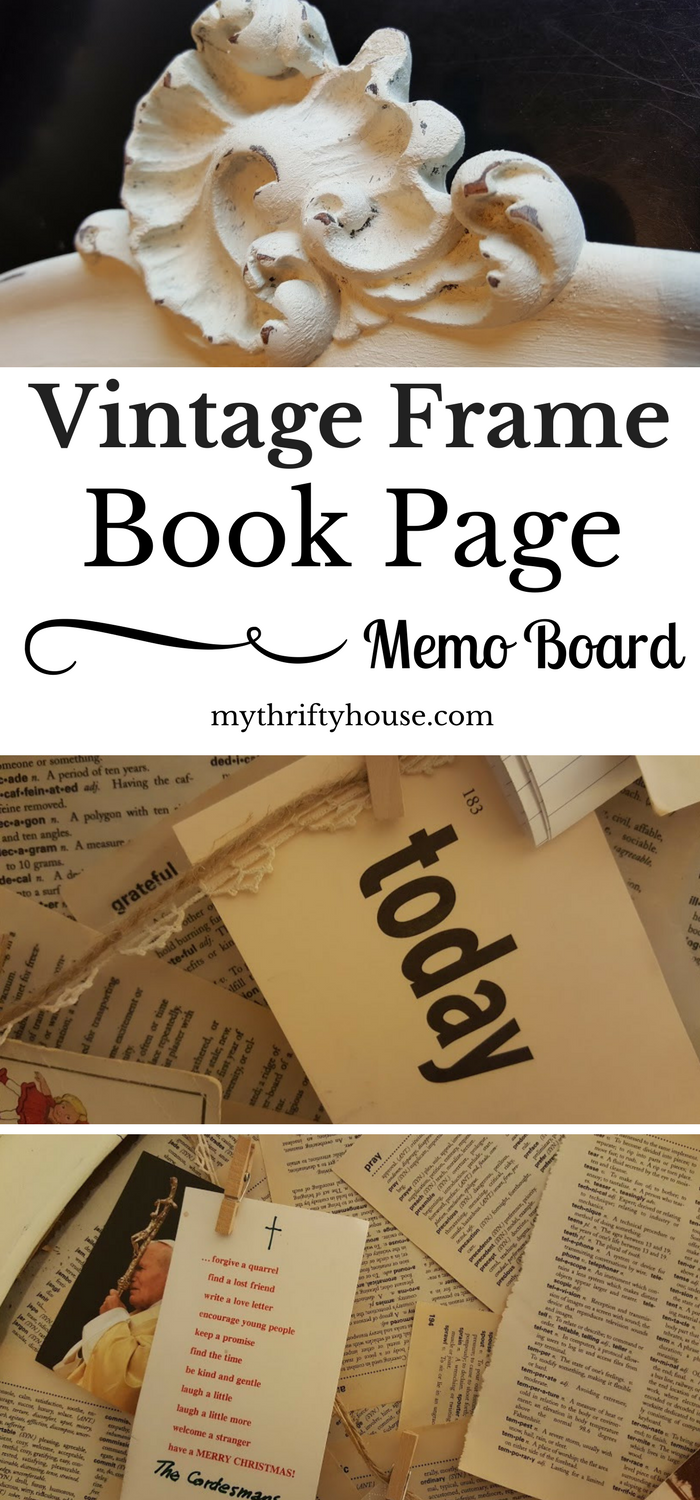 This project is being shared with my friends at the Ta-Da Link Party, I am Pinnable Party and the Waste Not Wednesday Link Party.
---
And now for more thrifty goodness!
Check out what my fellow upcyclers created below!