These Whole30 Loaded Sweet Potato Fries are so amazingly delicious that you'll forget you're eating healthy.
The best part of this appetizer is the fact that you will feel completely satisfied and not even think about the processed foods your friends are scooping off their paper plates as they drool over your amazing party snack.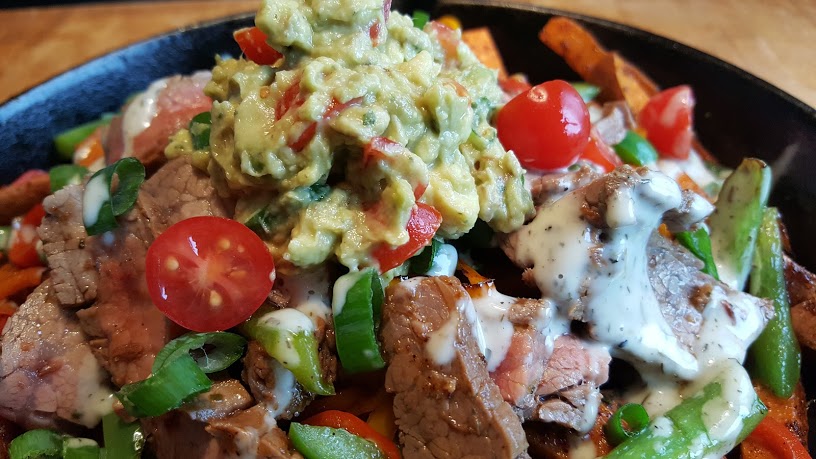 I am participating in an appetizer challenge with my blogger friends and we are sharing our round up of Appetizers and Snack to Feed A Crowd at the bottom of this post. Make sure you scroll all the way to the bottom of the post.
I am currently doing the Whole30 Challenge so I needed an appetizer that is compliant with the plan but doesn't make me feel deprived or restricted to eating off the veggie tray. As I was planning out a typical Super Bowl menu full of the usual fats and carbs (like my Vidalia Onion Dip) I decided to create a recipe mash-up between nachos and cheese fries. The result of my creative cooking are these Whole30 Loaded Sweet Potato Fries.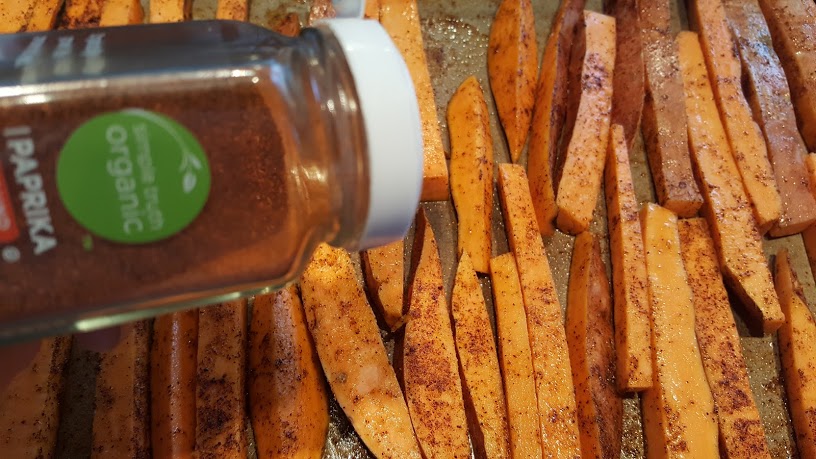 Ingredients for Whole30 Loaded Sweet Potato Fries
Note: When I started to make my Whole30 Loaded Sweet Potato Fries I was going to use chorizo but then I remembered that I had left over grilled flank steak from the night before. So glad I went with the grilled flank steak option but you could use chorizo or taco meat.
grilled flank steak (seasoned and marinated with olive oil, chili powder, cumin, salt, pepper, and cilantro)
4 sweet potatoes (choose potatoes that are similar in size)
sautéed onions and peppers (I used red, green and yellow peppers)
guacamole (avocado, green onion, tomatoes, salt, pepper, chili powder, cumin and lime juice)
green onion and tomatoes
Confession: I had never eaten a sweet potato until I started the Whole30 challenge last year and now I am obsessed with sweet potatoes.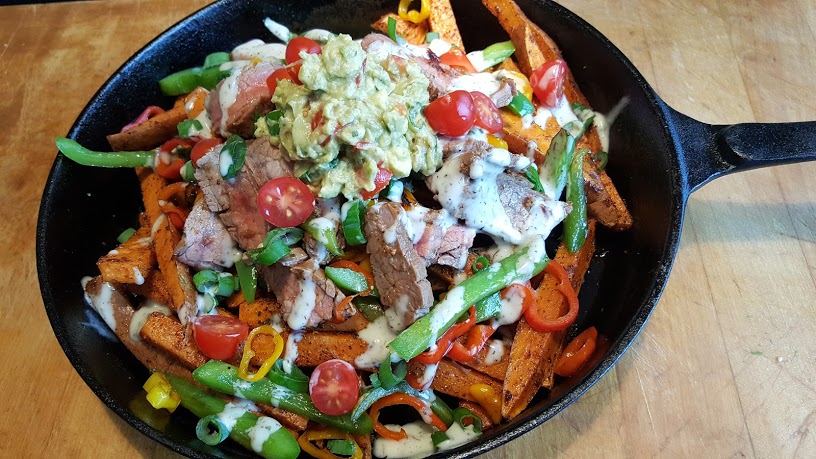 Leave the skins on and cut the sweet potatoes uniformly so they would cook evenly and look like fries, not wedges.
Soak them in cold water for 10 minutes to help draw out some of the starch
Pat fries dry and lightly toss in olive oil
Season fries with chili powder, cumin, paprika and dried cilantro
Place them evenly and flat on a baking sheet
Cook for 20 minutes at 425 degrees turning after 10 minutes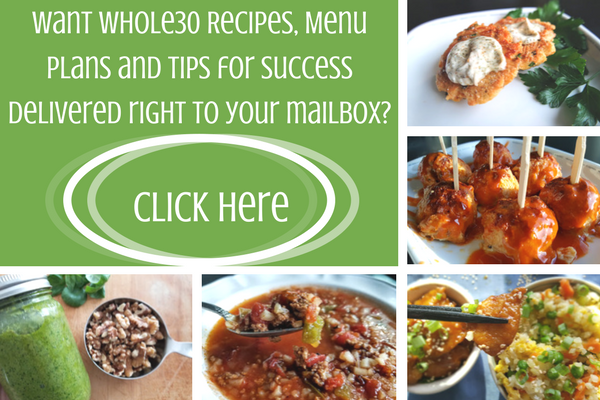 While the fries were cooking I sautéed the onions and peppers in some olive oil. Then I made a batch of fresh guacamole, chopped some green onions and tomatoes and thinly sliced the grilled flank steak.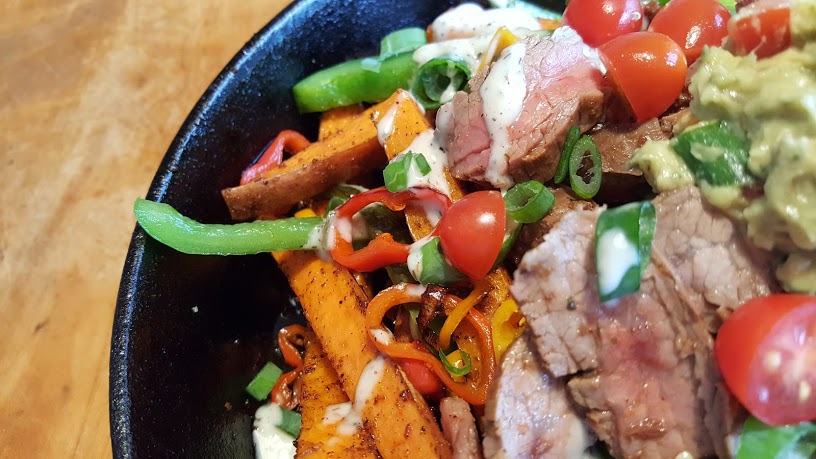 After the fries were roasted I salted them with sea salt and then the magic happened. I loaded up the sweet potato fries with the sautéed onion, peppers and grilled flank steak. Then I added a dollop of guacamole, sprinkled on some green onions and tomatoes and drizzled some Tessemae's Creamy Ranch Dressing.
After I handed my husband a fork we went to town on these Whole30 Sweet Potato Fries with zero guilt.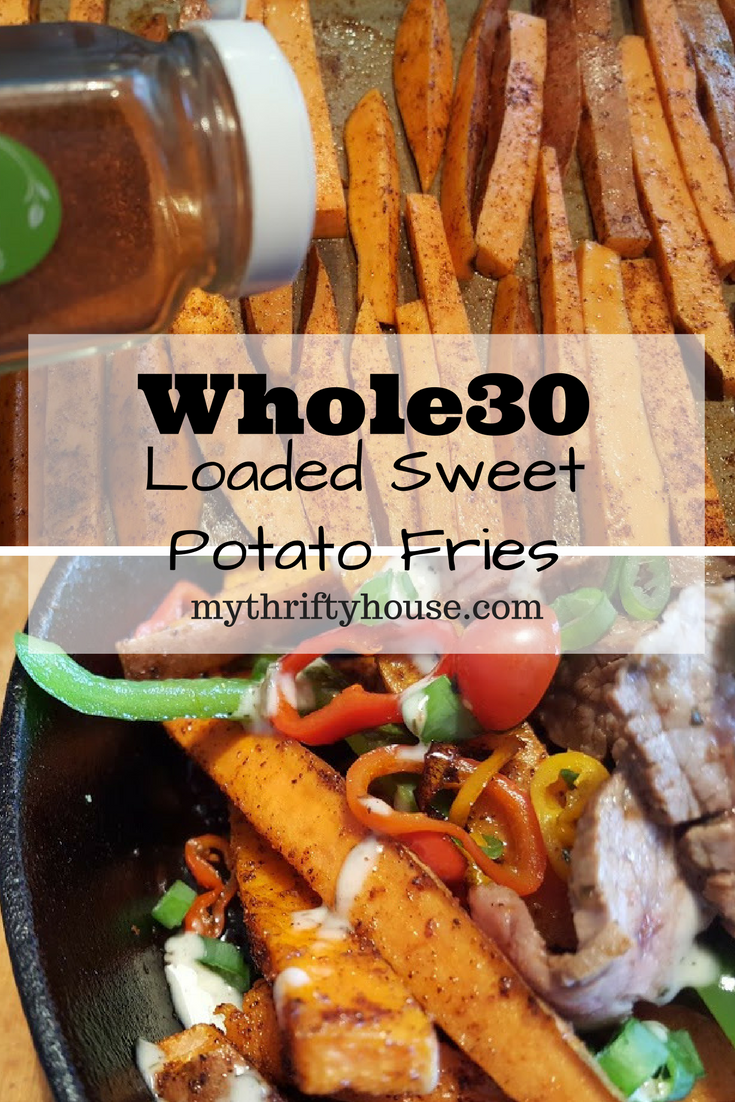 Appetizers and Snacks to Feed  a Crowd