Today I am introducing you to a new tradition- my Bucket List. I usually focus my New Year on getting organized and cleaning out all the clutter in my life but I've never thought about making a bucket list. My daughter always checks things off her bucket list and it made me think, I should create my own bucket list.
Most people create a life long bucket list with things they want to accomplish in their lifetime but I thought it would be more manageable if I created a 12 month Bucket List. I want to take my time and make happy memories to preserve in my Memory Jar.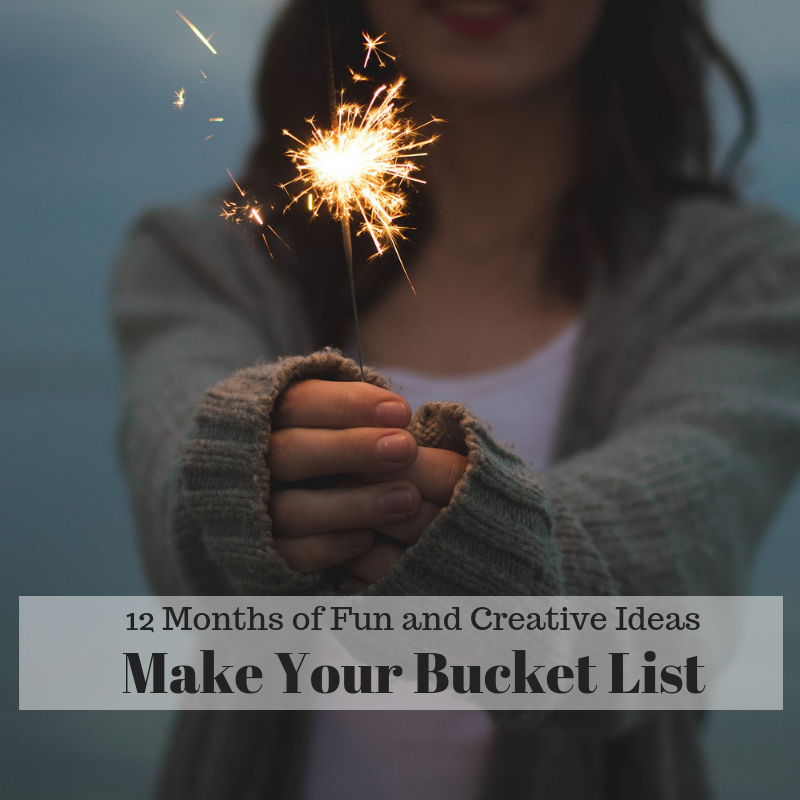 I have been brainstorming bucket list ideas that I can do at least once a month that will be creative and fun yet not be too overwhelming for my schedule or too expensive for the budget. Also, I don't want to do things just to do them. I want my list to have meaning and purpose with a happy memory I can cherish forever.

Who doesn't love good food and drinks with friends and family along with a side of laughter and good times? (FYI- I am jumping up and down raising my hand right now.)
Go to a brewery and try some beer beyond my Miller Lite palate 2/10/2017 Lakefront Brewery, Milwaukee Wi.
Winter BBQ

Host a brunch 1/1/2018 New Years Day Brunch

Since we bought an RV , it is only appropriate that I add some travel plans to my list.
Visit the Grand Canyon March 25, 2017
Visit Niagra Falls
Walk along the Gold Coast (Chicago's side of Lake Michigan)

Be a tourist for a long weekend June 23, 2017 Lake Geneva

Although I consider myself crafty I am not very artsy. Dose that make sense? I haven't been to many plays, I don't read books and I can't remember the last time I have been to the movies.
See a Broadway play June 14, 2017 Hamilton
Watch Gone With the Wind (I've never seen this movie) November 2017
Take an Art Class
Learn more about photography

I am all about learning how to be a better ME and I read anything that has to do with self-help and self awareness but I rarely implement the lessons learned without a gentle nudge.
Go to a hotel and relax in a deep bath tub with bath salts and bubbles
Social media free weekend (no phone and no computer)

Daily meditation meditate

Plank every day for a week
Bucket List Bonus Ideas
Here are a few extra bonus ideas that I came up with that might inspire you to make your own bucket list.
Get a massage

Go Geo Caching
Take a cooking class
Learn a new craft

1/15/2017 Arm Knitting

Write a letter and mail it (no email)

12/24/2017

Exercise or take up a sport
Go out of the country
If you have been inspired by my Bucket List please leave a comment with a link to your list.