Making a wireless wall sconce using the magic light trick is any easy update that doesn't require any electrical wiring. Even better, the light can easily be moved wherever you want to add a pop to you decor.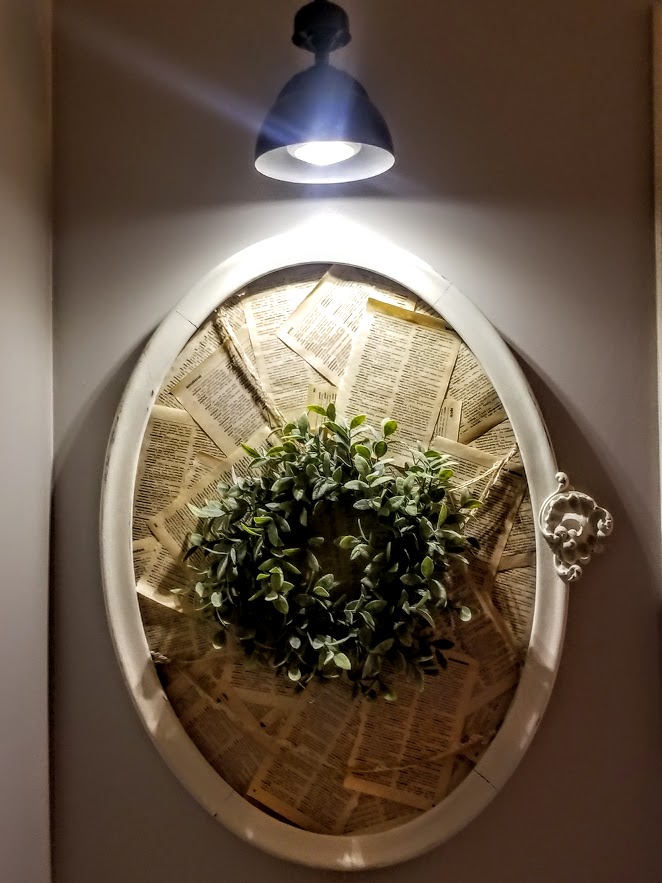 As one of 20+ bloggers participating in the Thrift Store Decor Challenge, I am excited to share with you this wireless wall sconce using the magic light trick.
The Rules:
Upcycle an item(s) from a thrift store, resale store, or garage sale into a new piece of decor.

There's no monthly theme.

There's no budget to stick to.
Meet the Hosts
Angela | Simply Beautiful By Angela – Jenny | Cookies Coffee and Crafts – Heather | Glitter On A Dime – Amanda | Domestically Creative – Denise | My Thrifty House – Molly | Just a Little Creativity – Angie | Flippin Fanchers – Victoria | Dazzle While Frazzled – Marie | The Inspiration Vault – Deborah | Salvage Sister & Mister – Pili | My Sweet Things – Carmen | Living Letter Home – Habiba | Craftify My Love – Emy | Semigloss Design – Meredith | Southbound Blog
Make sure you follow our board on Pinterest for more upcycled decor inspiration!
My Thrifted Wall Sconce
I was so excited when I spotted this wall sconce at the the thrift store for less than $4. It reminded me of a much more expensive farmhouse light I saw online.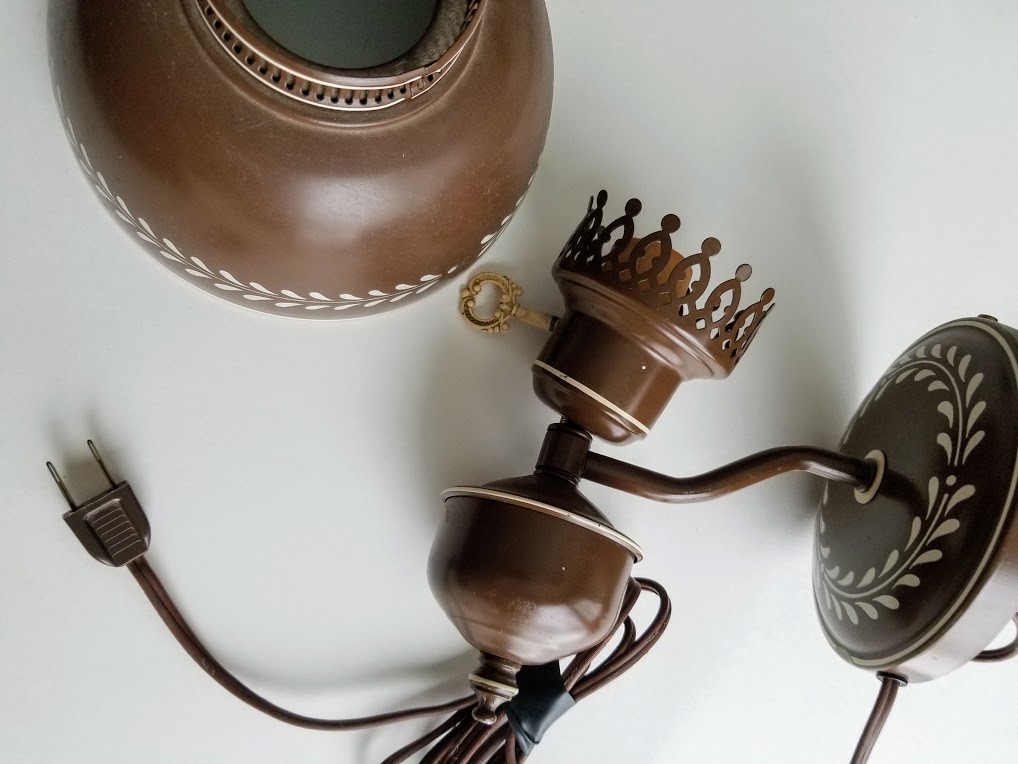 My $4 thrifted light fixture had wires and would require some electrical work in the house. While my hubby has rewired many lights for me and updated my ugly ceiling fan, there was no way he was going to tear into a wall to install a $4 wall sconce. 
Then I had my light bulb moment. This would be the perfect opportunity to try the magic light trick, made popular by the Instagram guru Brooke at Nesting with Grace. I am not sure if she is the originator of the magic light trick but I am giving her all the credit.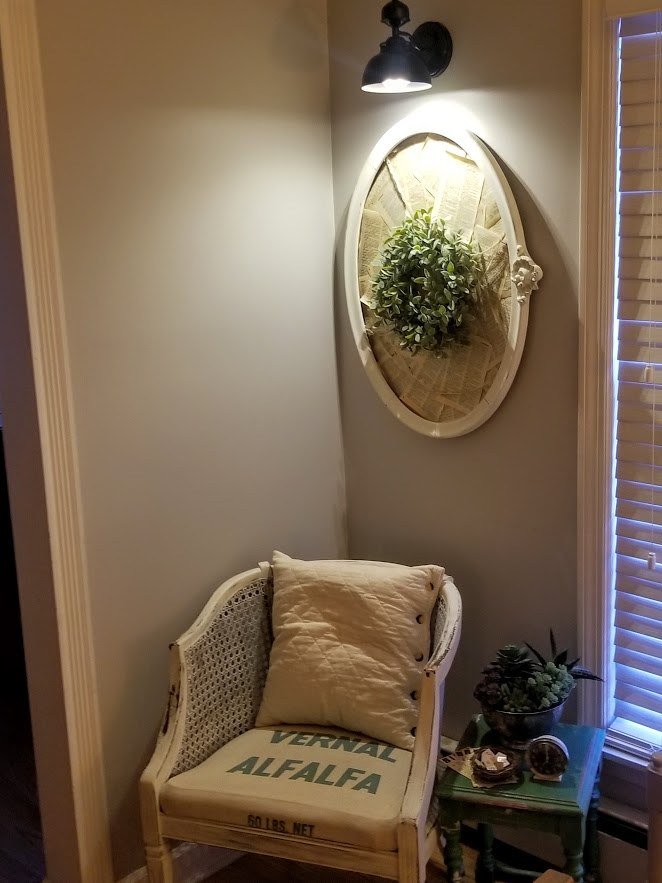 The Magic Lights
I bought these puck lights months ago when I did the Glamper Living Room Makeover but decided to save them for a future project. 
The magic part is the puck lights are battery operated and come with a remote which allows you to turn a wall light into a wireless wall sconce.
Magic because my hubby doesn't have to tear open a wall and I can move the light whenever I feel like changing things up in the house. 
The pack comes with 6 lights and one remote but I plan to purchase an additional remote. Then I can split up the pack of lights and install wireless wall sconces in my house and the Glamper. (FYI, Glamper bedroom makeover is my "future project".)
Making a Wireless Wall Sconce
After I brought my thrifted light home I had to do some updating and first on the list was to remove the electrical guts and wiring.
The sconce was originally a hurricane lamp with the metal shade balancing on top of the glass tube which was missing.  After making some modifications to the shade I attached the puck light with some wire making sure to allow for the light to be unscrewed so I could change the batteries as needed. 
Next on the list was to update the color. Black spray paint to the rescue!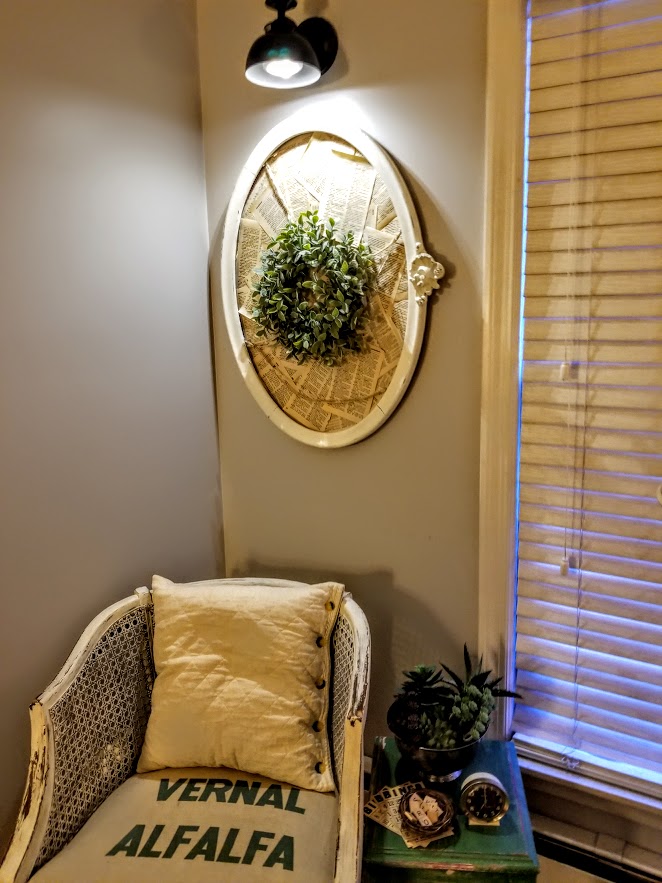 With the wave of a remote, magic happened! My wireless wall sconce worked perfectly and I am excited to get started on more magic lights. 
Below are some lights I am thinking about adding to my Glamper using the magic light trick. Click on any of these images for more details.