Yes! After several attempts (and fails) my Whole30 Orange Chicken has successfully made it to the family favorite list.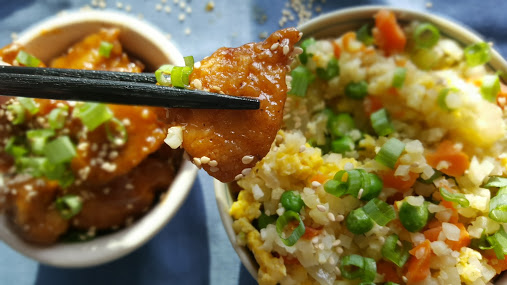 I was not about to give up on this healthy alternative to the traditional Chinese Orange Chicken because it is the perfect dish to go along with my fake-out take out cauliflower fried rice. You have to try it.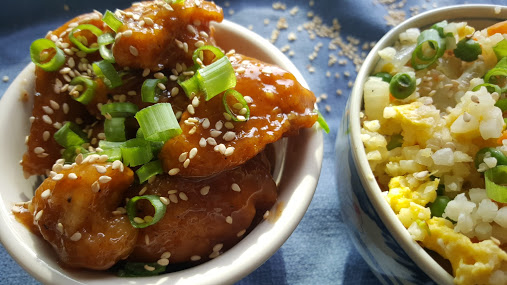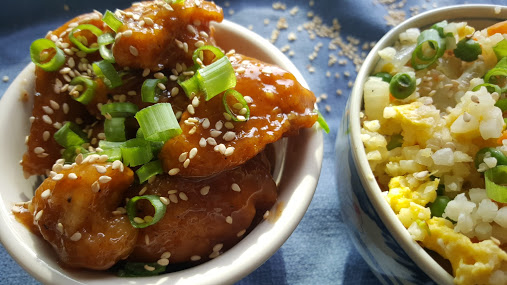 Seriously, doesn't this look like it came from a Chinese restaurant? OK, maybe not that good but yes, I am quite proud of myself for creating a dish that is healthy and so yummy my family is already asking when I am going to make it again.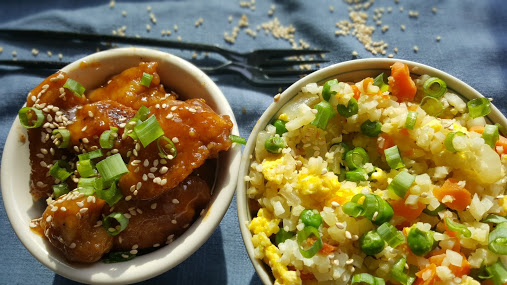 I will forewarn you that this is a time consuming recipe. You aren't going to put this on the table under 30 minutes but it is so very worth it in the end.
Something new that I have discovered while doing the Whole30 Challenge is tapioca starch which is very similar to corn starch. It is perfect for breading chicken and giving it that golden, crispy crunch I crave on occasion.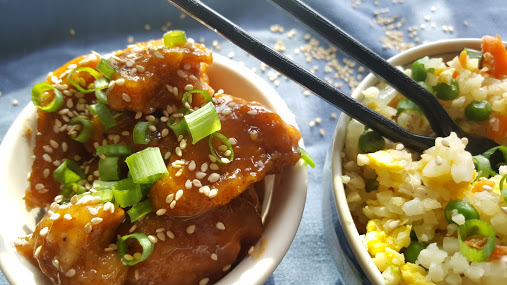 Not only do I love to use tapioca starch with this orange chicken recipe but it is a great substitute for regular flour when you are breading and frying veggies or pork chops. It can also be used to thicken up sauces.
I make my orange chicken with boneless, skinless chicken cut up into 1 inch bite size pieces. Then I dredge it in egg wash and then the tapioca starch that has been well seasoned with salt, pepper and ground red pepper.
I fry it in my cast iron skillet filled with coconut oil because it has a high heat tolerance which doesn't burn or smoke and it adds to the flavor of the recipe. You can also use avocado oil if you happen to have that on hand.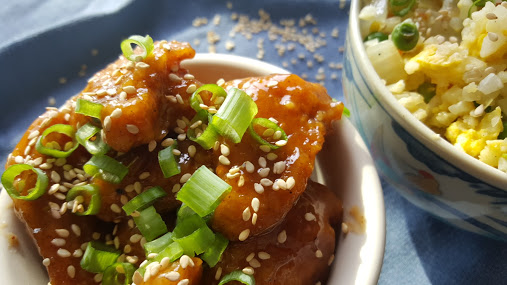 After each piece of chicken is fried to a golden brown color and drained of excess oil I start making the orange sauce.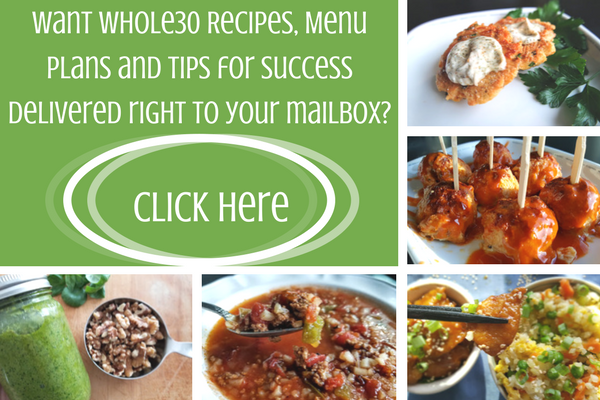 Let me be totally honest with you, I do not like fruit (I know, I am weird) and I most definitely don't like citrus flavors (yep, extra weird) but this orange chicken has a flavor combination that isn't overpowering and tastes amazing.
Not only does each bite give you the crunchy fried pieces of  moist chicken but the zesty orange sauce has that shiny, sticky goodness that coats every piece of chicken with a tasty layer of HEAVEN. And let's not forget those sesame seeds and green onions that are the sprinkles on top.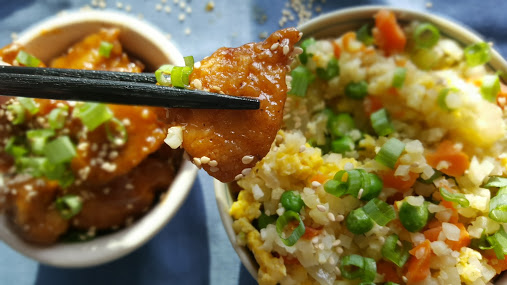 You no longer have to fear what part of the chicken you are eating not to mention the MSG or other questionable ingredients because this healthy, clean and delicious Whole30 orange chicken along with a side of cauliflower fried rice is going to change the way you think about Chinese food. I promise!
Whole30 Orange Chicken Ingredients
1 package of boneless, skinless chicken strips cut into 1 inch pieces

3/4 cup tapioca starch

salt and pepper

ground red pepper

2 eggs

coconut oil
Sauce Ingredients
juice from one large orange + water to make 3/4 of cup

zest from orange (warning: zest can be over powering so keep it to 1 tsp)

1 TBSP sesame oil

1 clove of garlic

1 tsp of apple cider vinegar

1 tsp of ground ginger

1/2 cup of chicken broth

1 tsp of tapioca starch
Garnishments
sesame seeds

sliced green onions
I use two pie plates for my dredging station. Scramble two eggs into one pie plate and add your tapioca starch to the other along with the salt, pepper and red pepper.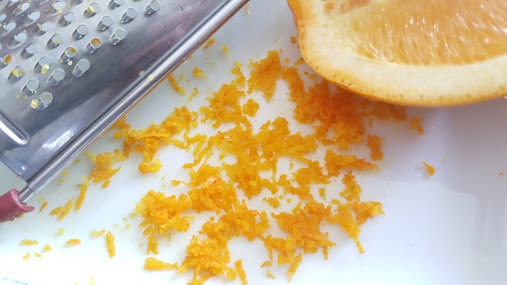 Melt enough coconut oil in a frying pan so that each piece of chicken is submerged in oil half way. (You may have to replenish your oil during the frying process.) Dredge your chicken in egg, then the tapioca starch and add to the hot coconut oil in your skillet. Turn chicken pieces so that they are fried and golden brown on each side.  After frying, let chicken drain well on a piece of paper towel to absorb excess oil.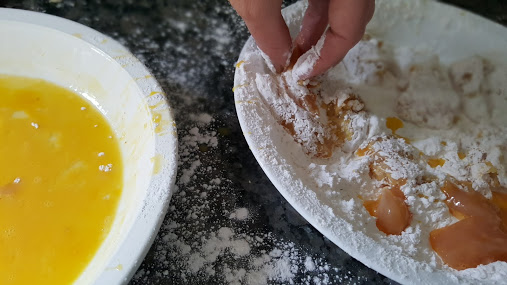 To make the sauce, heat the sesame oil in a frying pan. Add garlic and saute for about 30 seconds to one minute making sure not to burn the garlic. Add orange juice, zest (not too much), vinegar, ground ginger and chicken broth. Heat until bubbling and whisk in tapioca starch.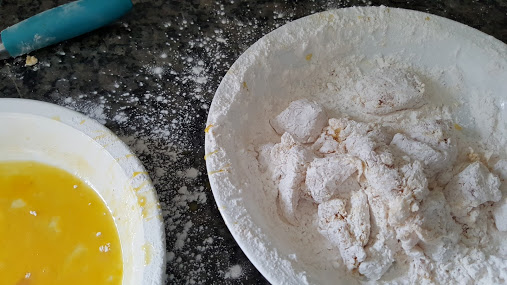 Once sauce has thickened add your cooked chicken pieces and stir until all pieces of chicken are well coated with your sticky orange sauce.
Sprinkle your orange chicken with sesame seeds and sliced green onions. Serve with a side of cauliflower fried rice and enjoy every delicious bite of this healthy fake-out take out Whole30 orange chicken and fried rice.