If you've had the chance to read my Instant Pot pros and cons then you know I am definitely a fan and use my pressure cooker all of the time to make lovely meals like this instant pot chicken thighs recipe. Today I am sharing my list of must have Instant Pot accessories that I have discovered along the way.
This post contains affiliate links which means I earn a small fee if you make a purchase using my links however, it does not affect the price you pay. You can read my full disclosure here.
Over the last year I have successfully translated most of my family favorite recipes from slow cooker recipes into pressure cooker recipes and I have acquired several accessories that have definitely made my Instant Pot cooking more efficient.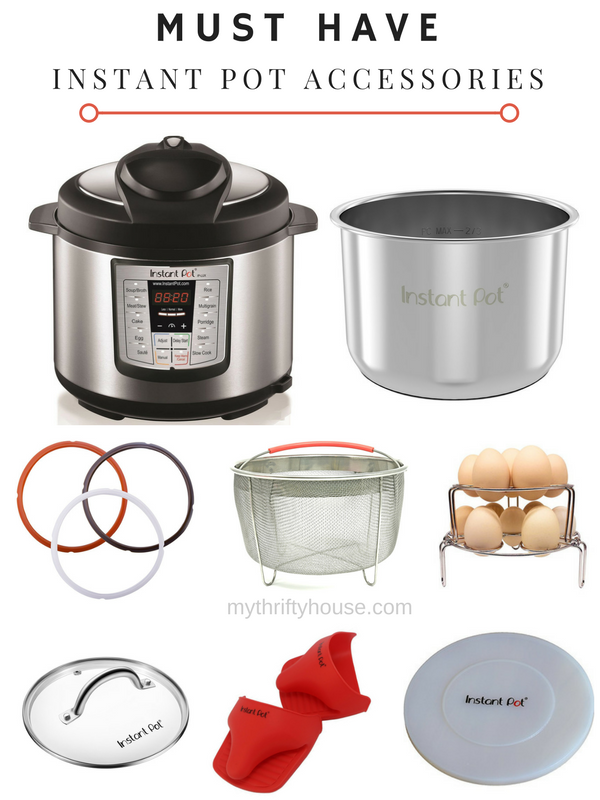 First, you need to decided which Instant Pot is right for you. I personally have the Instant Pot LUX60 V3 6 Qt 6-in-1 that I purchased for $74 on Black Friday. There are several models to choose from and the price can range from $99-$300. There are small, medium and large sizes too.
One of the very first Instant Pot accessories I purchased were these extra lids. Even though I converted most of my slow cooker recipes into pressure cooker recipes, I still like to make some of them with the slow cooker option and I like having the glass lid for when I was soups and sauces. I also bought the silicone lid for when I pre-load the pot the night before and put it in the fridge or for when I have leftovers in the pot and want to put it back into the fridge.
My Instant Pot came with a metal trivet that I use when I make roasted chicken or hard boiled eggs. The problem was that my trivet only held 7 eggs and I was learning more and more about pot in pot (PIP) cooking which requires stacking dishes on a trivet inside the Instant Pot.
Sometimes it can be a bit difficult getting the pot insert and trivets out of the Instant Pot because everything is so hot. Years ago my mother-in-law gave me the Ove Glove and they are awesome, heat resistant oven gloves perfect for pulling hot parts out of the pot. I also have a pair of silicone mitts that come in handy too when pulling the insert pan out of the pot.
I accidentally discovered these Instant Pot accessories were already in my kitchen when I was researching PIP cooking. My porcelain souffle dish fit perfectly inside the pot on the trivet. The small ramekins are perfect for making individual desserts and can be stacked inside the pot.
Since I use my Instant Pot so much I had to get an extra insert pot which works great with the extra silicone lid I shared earlier. Over time the sealing rings get worn or smell from absorbing cooking odors so I always have a spare set. I like these color coded rings too.
I hope you have enjoyed a peek at my list of "must have" instant pot accessories. I am sure that this list will continuously grow the more I use my Instant Pot. Feel free to share this list with a friend or someone looking to purchase an Instant Pot themselves.