Today I am working with 40 talented bloggers to bring you a tour of our decorated Christmas Trees. I love seeing how everyone else decorates and the stories behind their ornaments and holiday traditions. I am sharing my traditional Christmas tree and rotating tree stand that I inherited from my Grandma but you can see my whole house tour here.
So grab a cup of your favorite beverage, settle in and get comfortable because you are going to love the beautiful Christmas tree decor shared today, and bonus – we won't need Roanoke tree removal to help us get rid of it! Make sure you scroll to the bottom of this post to meet the other hosts and see their festive Christmas trees. You won't be disappointed.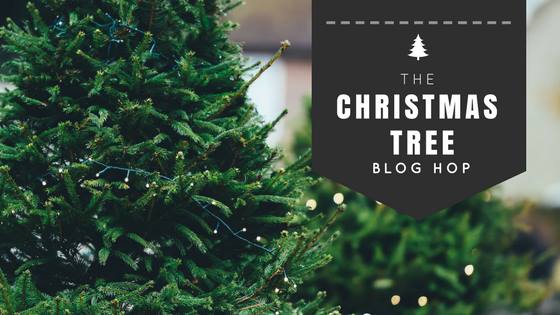 My Traditional Christmas Tree and Rotating Tree Stand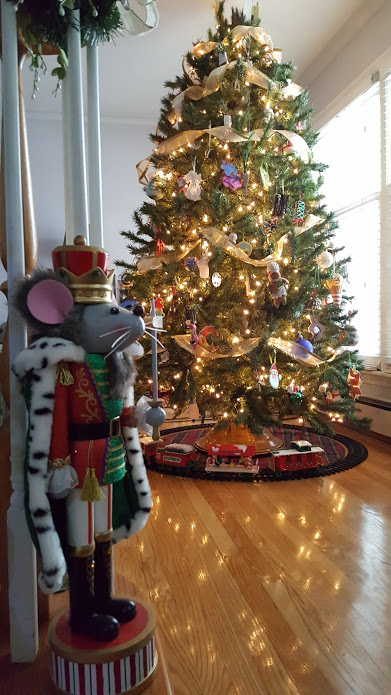 I grew up in the 70's and lived through bitter cold strolls along Chicago's Michigan Ave while sipping hot cocoa and looking at all the decorated store windows and Christmas trees. My favorite tree was the HUGE Marshall Field's traditional Christmas tree that sparkled with reds, greens and golds. 
My Grandma had a beautiful traditional Christmas tree too and it stood majestically in the tall picture window of her living room that went from the foundation of the house all the way to the top of the vaulted ceiling. The window faced the street in front of her house and the Christmas tree took up the entire window from floor to ceiling. 
I remember walking into the room and it was filled with the aroma of a real tree that looked like it was just brought in on a flatbed truck from a forest in Wisconsin. It was so tall and majestic she had to use a ladder to put the ornaments on the fluffy, pine branches. 
But my most favorite memory about my Grandma's Christmas tree was that it sat in a rotating tree stand and played music. Yes, it rotated in a full 360 degrees and had a music box that played 3 songs. It was mesmerizing and I could sit and watch that tree for hours.
Fast forward. Things have definitely changed since the 1970's and my traditional Christmas tree isn't real or majestic but it is filled with lots of happy memories along with a few sad memories.  My tree doesn't have a color theme or fancy ornaments but it tells the story of our Navy life as we moved coast to coast while raising our 4 children in 9 different homes over the course of 16 years. 
My tree is filled with homemade ornaments from when my kids were little. 
My tree has ornaments from our travels across the country.
?

My tree has memorial ornaments for my son. 
But most of all my tree is filled with lots of love.
Now that we are retired from the Navy and living in our forever home, my traditional Christmas tree gets the privilege of sitting in the rotating tree stand I inherited from my Grandma and mesmerizing my kids and guests. I love that I can walk into the living room at any time and the lights are twinkling and the view is different every time. 
I have collected so many ornaments over the last 28 years that it is no problem filling all sides of the tree. (Yes, all sides have to be covered when your tree rotates.) I also have another decorated tree in my dining room and one more on my front porch.  
I hope you enjoyed my traditional Christmas tree along with my trip down memory lane. Don't forget to scroll down and take a tour of the 50 other trees on this holiday tour. Merry Christmas!
Let's Meet The Hosts!
Michelle | Our Crafty Mom | Allison | Upright and Caffeinated
Angela | Simply Beautiful By Angela| Annie | All Things Big and Small
Brittany | Our Home Made Easy | Chloe | Celebrate and Decorate
Cindy | County Road 407 | Colleen | Life on Kaydeross Creek
Denise | My Thrifty House | Eileen | Sand Dollar Lane
Erlene | My Pinterventures | Jaclyn | The Dotted Nest |
Jeannee | Centsably Creative| Vicki | 2 Bees In A Pod |
Jennifer | Oh Fiddle Dee Dee | Jolene | Create Pray Love
Morgan | Charleston Crafted | Nancy | Slightly Coastal
Nicole | Madness and Method | Pam | P.S. I Love You Crafts
Stephanie | Abbotts At Home |Yami | The Latina Next Door |
Jenn | Loveland Lodge | Christene | Keys To Inspiration
| Libbie | A Life Unfolding Jaclyn | One Thousand Oaks |
Jennifer | 2 Bees In A Pod | Sarah | The Project Pile
Now let's check out the rest of the beautiful Christmas Trees!