While shopping online for kitchen gadgets I started clicking around and got sucked into looking at the classic toys and games that I grew up with. Does that ever happen to you too?
Suddenly I was cracking up and reminiscing about so many memories with my siblings and I thought it would be fun to share these ideas with you too.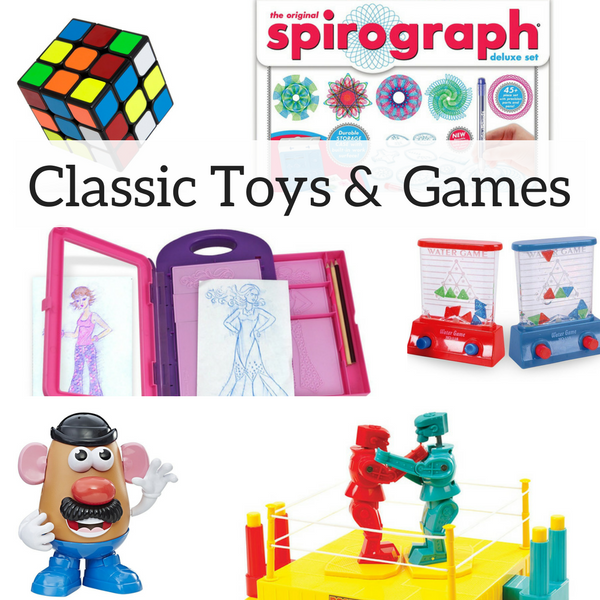 Before you run out and get your kids the next fad toy for Christmas consider some of these classic toys and games that have been around forever. 
Click on any of the images to purchase these classic toys and games on Amazon. If you're an Amazon Prime member you can get free shipping too. Or you can get a 30 day free trial of Amazon Prime.
This post contains affiliate links which  means if you click on any of the links and make a purchase I will earn a small commission however, it does not affect the price you pay. You can read my full disclosure here. 
| | |
| --- | --- |
| | The game that ties you up in knots. I remember playing this game for hours and laughing until my stomach hurt. |
| | I think we had every viewmaster reel made but my favorites were the ones that showed animals and the zoo.  |
| | My brothers would spend hours setting up their Army Men and playing with them. I loved the parachute guy that we would toss up in the air and inevitably get stuck in the trees.  |
| | Ok, I am going to admit it… I never solved the Rubik's Cube puzzle but that didn't stop me from spending hours trying. |
| | I don't even know why I liked this classic toy but I remember getting it in my stocking. It was almost hypnotic and relaxing to just twirl on long car trips.  |
| | That buzzer gets me every time! I played this game all the time with my friends and when I became a mom I bought it for my kids. It's a great family game. |
| | When I saw this I immediately thought of my brothers trying to stretch this guy's arms until they broke except they NEVER broke. Lots of laughs with this guy. |
| | This is seriously one of my favorite classic games that I still play with my family. We have a set of Uno cards in the house and in our Glamper.  |
|   | I almost jumped out of my seat when I saw that Fashion Plates were still around. This was my all time favorite toy to play with. |
| | This was another of my favorite toys. I loved those click pens with all the different colored inks. I made art for all my relatives to hang on their fridge. |
| | This was another mindless game that gave us hours of entertainment. I remember my aunt and uncle begging for a turn to play this game on Christmas Eve.  |
| | We sat at our kitchen table for hours playing this game. We would scream and yell when the head would pop off and buzz.  |
| | I think Lincoln Logs were my first attempt at home design. Even though they belonged to my brothers I still had a blast playing with them.  |
| | This is another game that brought us hours of entertainment as children and now as adults. I loved playing this game with my kids.  |
| | It seriously doesn't get any more simple than playing with a Slinky up and down the stairs. Ok, and it was pretty funny when my brother got it stuck in his hair too.  |