Soup season is upon us and this easy to make beef enchilada soup is sure to be a favorite. With layers of zesty goodness, this hearty soup is perfect to have year-round.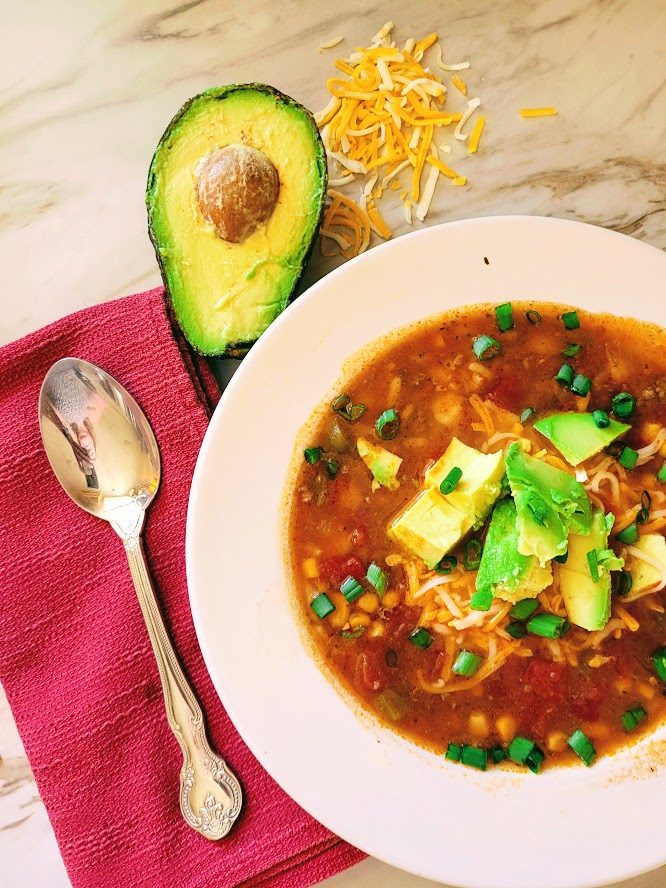 It's no secret that I love to make soups and stews in my slow cooker and Instant Pot. I'm not embarrassed to say, both appliances make weekly appearances in my kitchen. Besides the convenience of "set it and forget it", there is nothing better than coming home to a house filled with the aroma of a delicious meal greeting you like a warm hug.
I concocted this soup recipe when I was doing the "eat from the pantry challenge". I needed to use items I already had on hand so I put a spin on my Stuffed Green Pepper Soup and added all of the delicious flavors of my favorite Mexican food, beef enchiladas.
Toppings for this easy to make soup are only limited by your imagination and taste buds. I personally love adding sharp cheddar cheese, green onion, and a dollop of sour cream. Stir it up to give the soup a creamy consistency and top with fresh avocado.
Additional toppings could be black olives, salsa, fresh cilantro, hot sauce and crispy tortilla strips. It's all personal preference when it comes to customizing the toppings for your  own bowl of beef enchilada soup. 
Regardless of toppings, this hearty beef enchilada soup is delicious and easy to make. It will definitely be a regularly requested item amongst your family and friends.