Pantry organization is something I truly enjoy. I get great joy out of turning this tiny room into a functional space, without spending a ton of money. I know I'm weird but hopefully, so are you!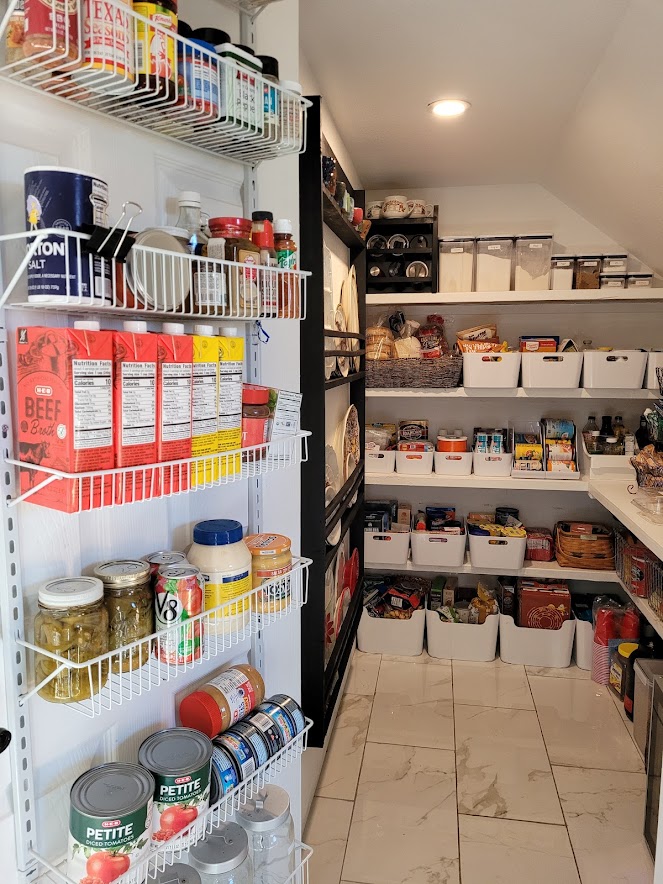 In my last house, my pantry was basically a small closet and I made the best out of the tiny space. I was able to do a pantry makeover for under $50. 
In my new house, the pantry is so much bigger. I can actually walk into the pantry.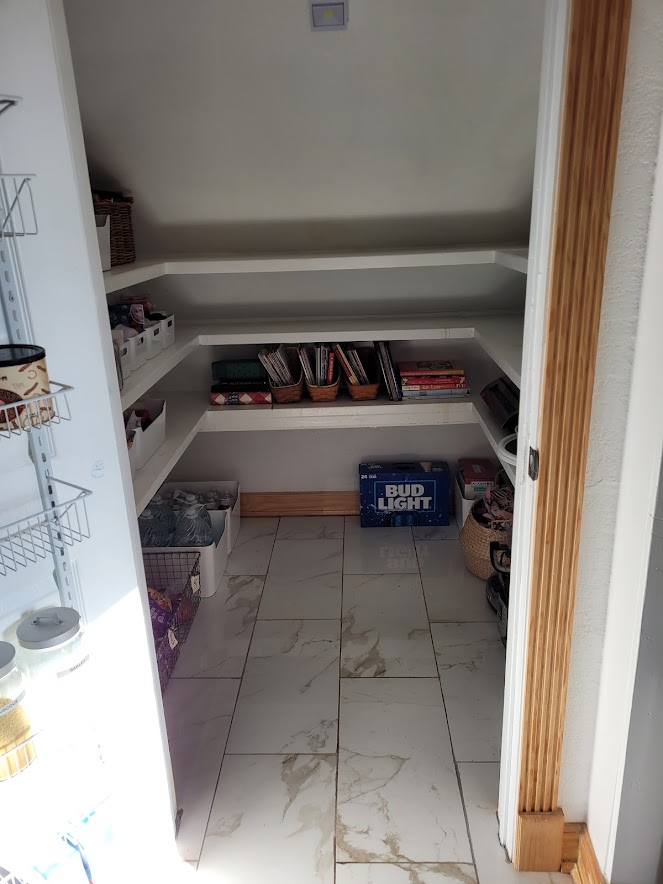 The one problem I encountered, it was awkward shape because it was under the staircase. Basically the top shelf wasn't functional at all.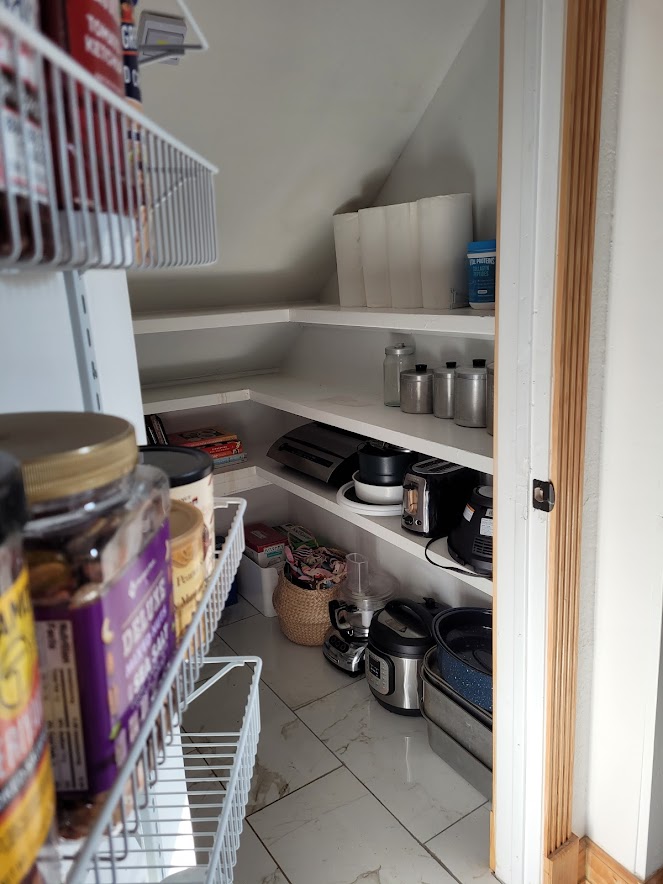 As part of the remodel, we tore out the staircase and reconfigured the pantry to create a space that was 100% functional. This pantry makeover is going to cost me a lot more than $50 but I am up for the challenge to use what I have and get things in order.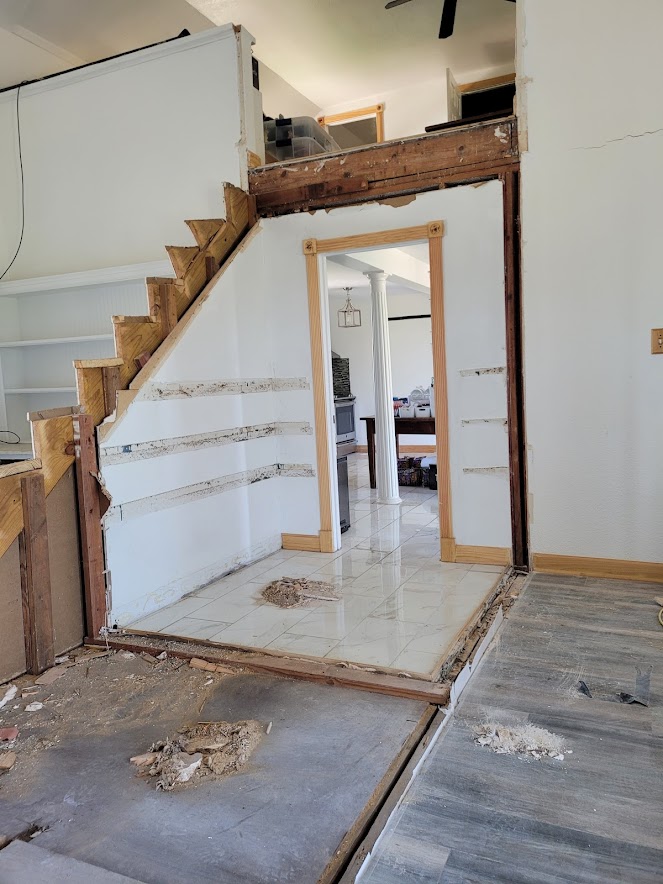 Pantry Re-Configuration
Let's start with the reconfiguration process and where I could save some money.
First, the shelves were made out of reclaimed wood. We saved the original shelves and cut them to fit the new space along the back wall. We spaced them 18 inches apart so each shelf was fully functional.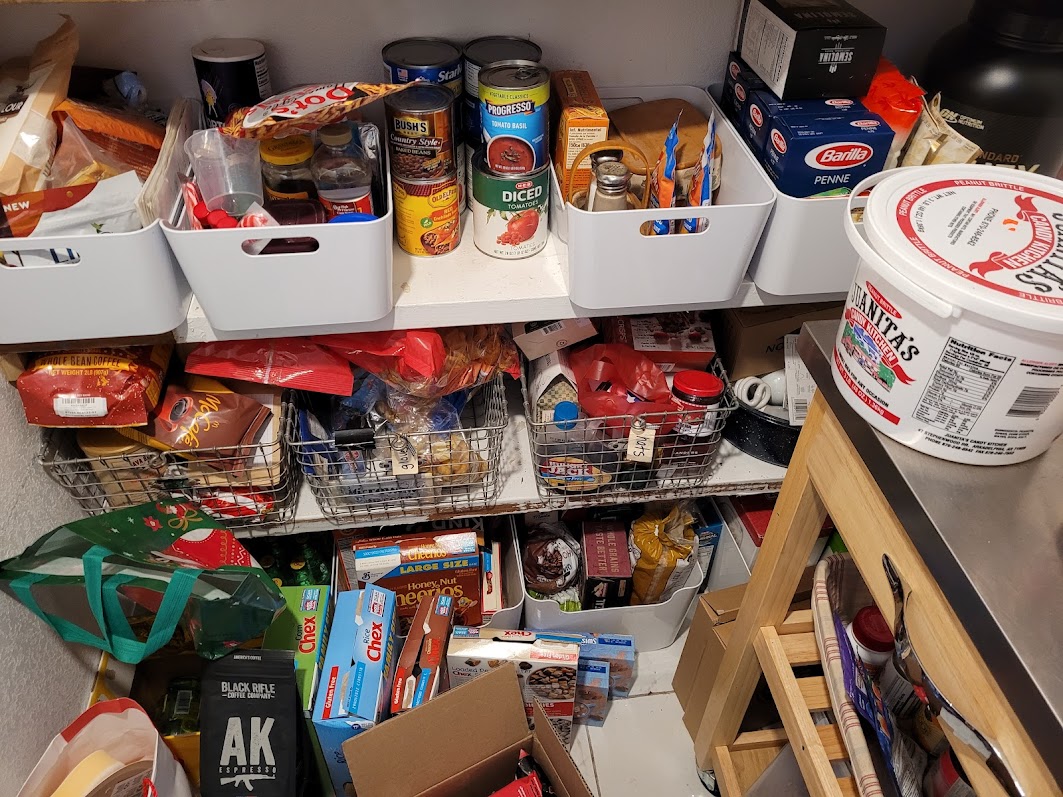 The previous owners left a cart on wheels and we rolled it in the pantry along the right side wall. I was smart enough to have the electrician add a plug in the pantry so I could get my microwave off the counter and out of site. 
We lived with this configuration for a while and then it became apparent that the big cart had to go! It took up too much space and the shelves were too deep. Things were getting pushed to the back and were constantly disorganized.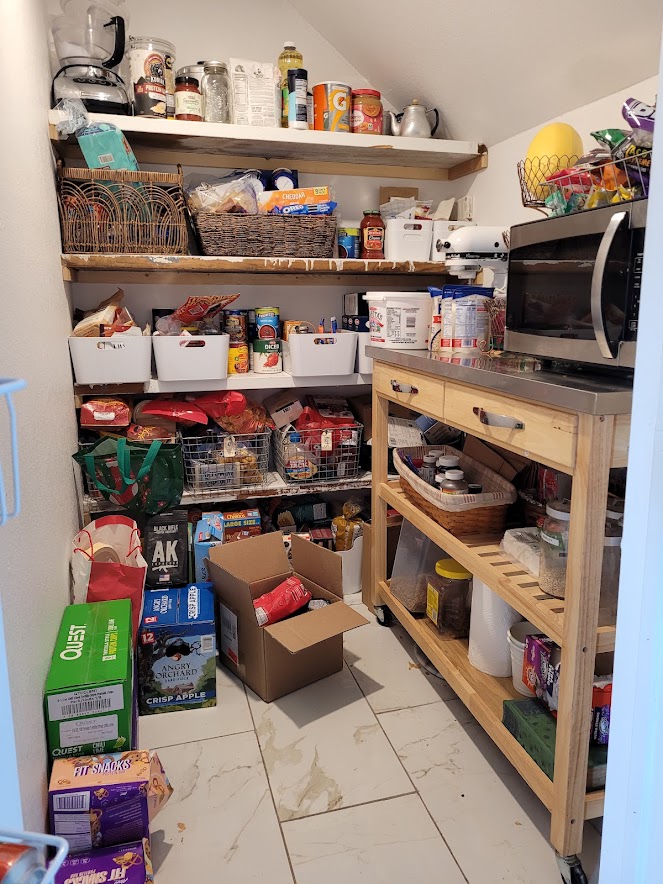 We opted to use some more of the reclaimed wood and configured an L shaped counter to replace the cart.  It added more storage and opened up the floor space. The bottom shelves are only 12 inches deep which are perfect for keeping things in view and organized.
The top shelf/counter was extended to 18 inches to accommodate the width of the microwave and we were able to add a small beer and wine refrigerator below it.  That fridge is definitely not what I would consider budget friendly but it contributes to my primary goal of maintaining pantry organization. Well worth the money spent.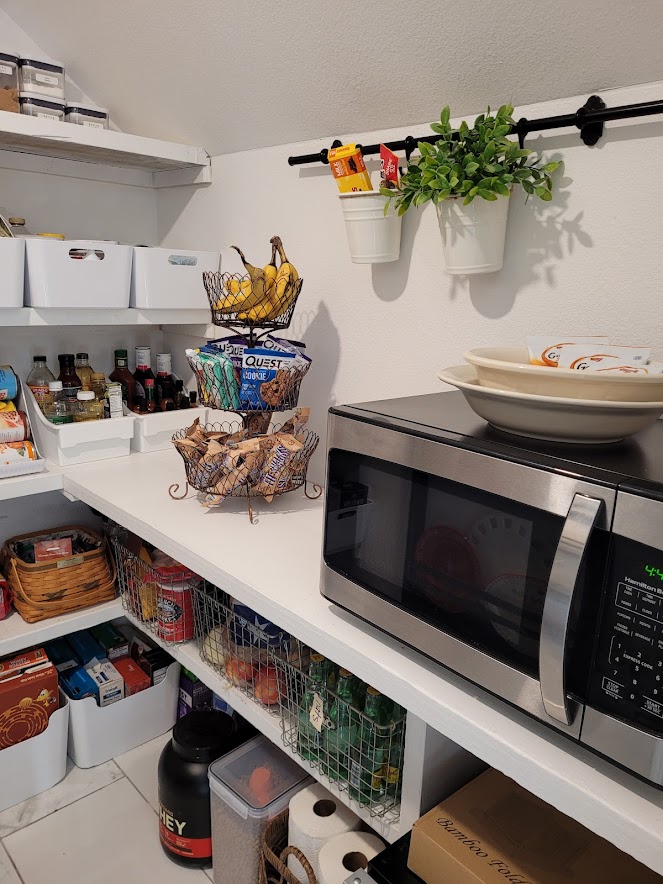 Lastly, while this kitchen is so much bigger than the one in my last house, it has limited cabinet space. I needed a place to store my platters and decorative plates.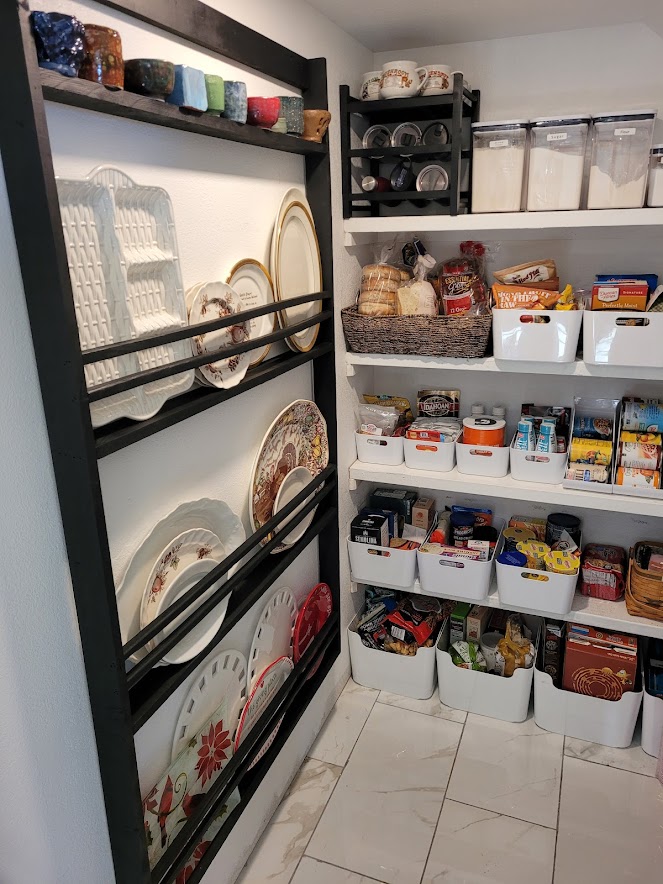 My sweet husband looked at endless inspiration pictures. Ultimately, he ended up using scrap lumber to build this custom plate rack which was inspired by the talented Karianne at Thistlewood Farm.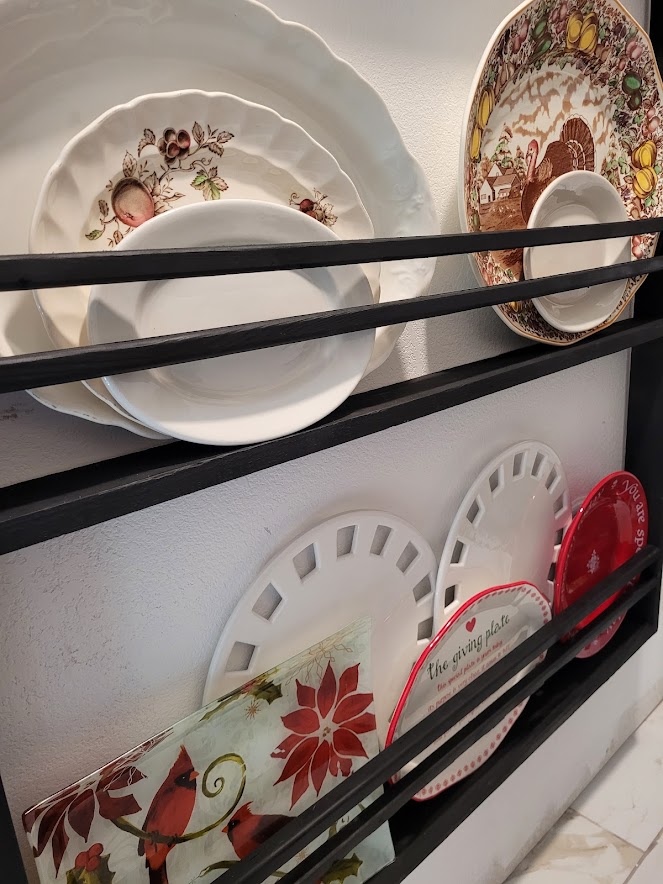 It is the perfect way to store my plates and platters in a functional and pretty display and still contributes to an organized pantry.
Pantry Organization Tips
*This post contains affiliate links and you can read my disclosure here.
This is the fun part. Empty the pantry and start sorting your food and staples into categories. Toss expired food and donate extras to a local food pantry.
Sorting everything and making sure it has a place is a key step to the process of organizing your pantry. 
I love the plastic bins from Ikea that I purchased when we first moved into the house. They are inexpensive, fit perfectly on the shelves and hold a lot of food.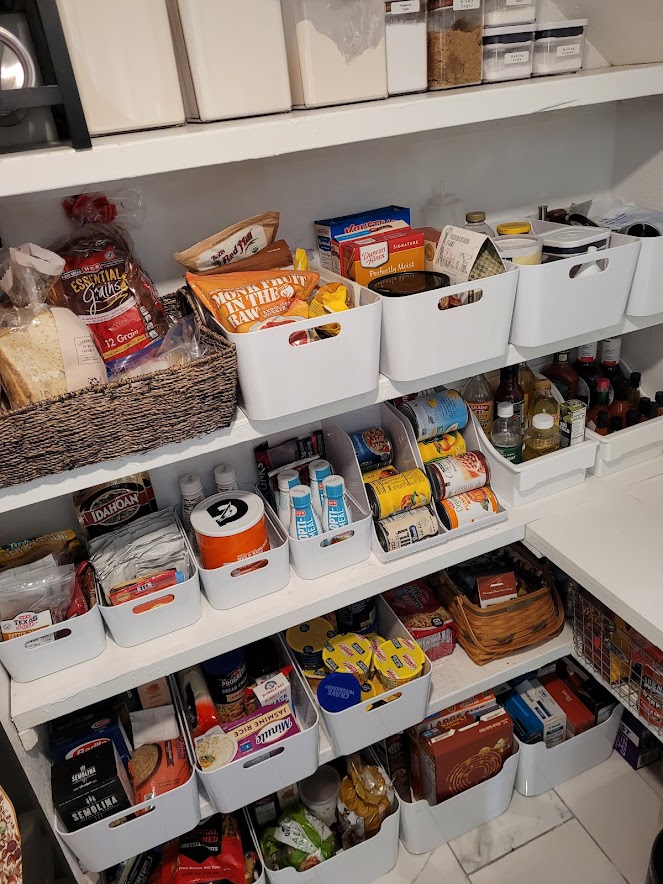 Let me add, yes it is aesthetically pleasing to the eye when everything is matching but it's not necessary. Of course, you can find plastic bins just about anywhere but I highly recommend first checking your local thrift store or using what you already have on hand. Get creative before unloading a ton of money on plastic bins. 
After sorting and categorizing everything I did make some Amazon purchases to help me get better organized. 
It was time to ditch my 1970's canisters and replace them with these pop top OXO canisters. I love these canisters because they can be stacked and optimize my shelf space. 
I also purchased two bins for holding canned food. While I do have a rack on the back of the door, these bins keep me from stockpiling canned goods. I can easily see what I have on hand and know I can't accommodate adding extra cans.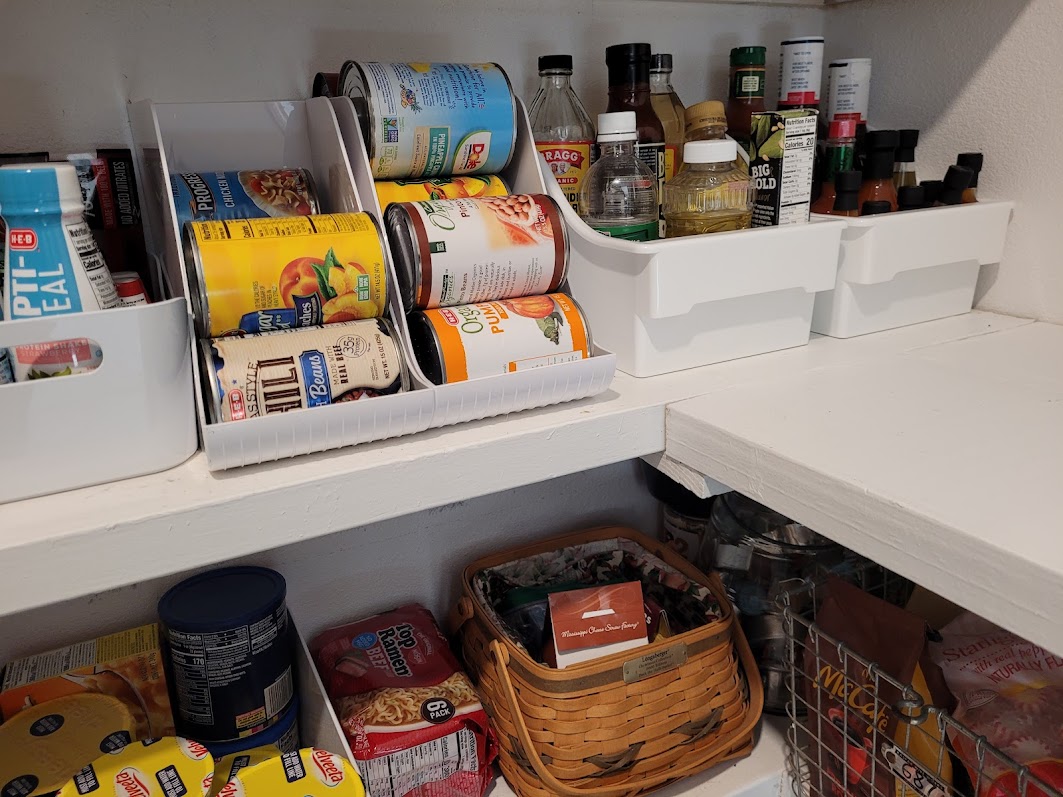 I had wire basket at my old house to hold hats and gloves in the mudroom. Not in Texas! I now use them to hold produce, bottled water and miscellaneous items.
As you can see, everything has a place and it is so much easier to maintain pantry organization. It saves me time and money when it comes to meal planning and grocery shopping.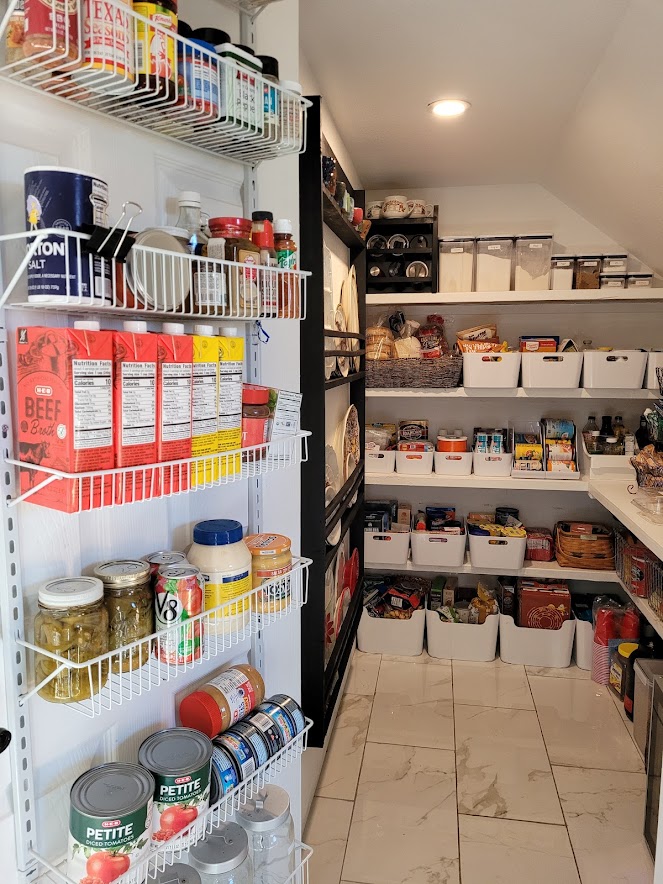 Over time, I am sure we will change things up as we find what is working and what isn't working but for now, this space makes me happy. 
Today, I am organized.