I have been trying for years to create a Whole30 potato soup that is hearty and flavorful. This recipe with sausage and kale is the perfect comfort food without the guilt.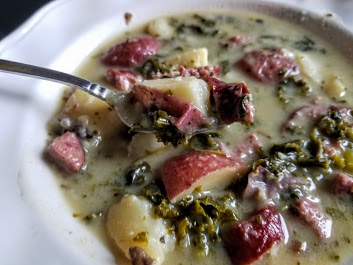 As an added bonus, this potato soup can be made on the stove top, in the slow cooker or in the Instant Pot which is my preference for most soups and stews.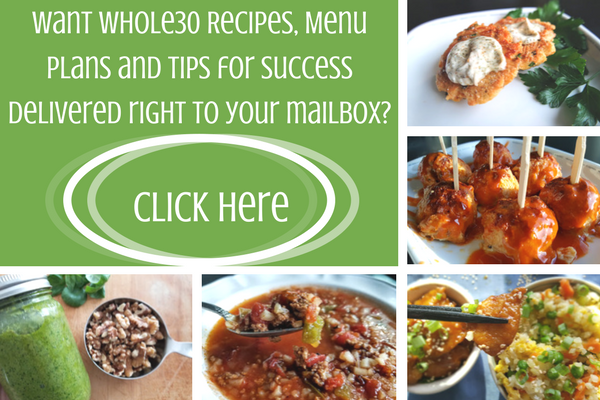 If you read about my Stuffed Green Pepper Soupthen you already know I am a huge fan of soups and stews during the winter months but most of all I love coming home to the aroma in the air and dinner all done. I use my slow cooker or pressure cooker at least two to three times a week.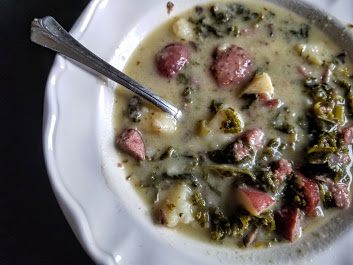 Whole30 Potato Soup Ingredients
If you aren't concerned with Whole30 compliant ingredients you can substitute the regular options.
2 lbs small red potatoes, quartered with skin on
1 kielbasa sausage (Pederson's is clean or Hillshire Farms if you aren't following Whole30)
2 cups chopped fresh kale (or spinach)
1 small chopped onion
1 cup chopped mushrooms
1 clove of chopped garlic
2 tbsp of ghee (butter if you aren't following Whole30)
4 cups chicken broth
1 can of unsweetened coconut milk (milk or cream if you aren't following Whole30)
salt and pepper
rosemary
thyme

Whole30 Potato Soup Instructions
This version of soup was made in my Instant Pot but I will give you instructions for stove top and slow cooker too.
Using the Instant Pot saute function, add one tbsp of ghee to the instant pot and saute sausage, kale, onion, mushrooms until onions are translucent and the kale is wilted. Add the garlic and saute for 30 more seconds. (This would be done in a large pot for the stove top and slow cooker version.)
Add quartered red potatoes and 4 cups of chicken stock to the sauteed ingredients. Season with salt, pepper, rosemary and thyme and add 1 tbsp of ghee.
Using the manual setting, set Instant Pot to 12 minutes on high temperature. Don't forget to seal the lid. (If using a slow cooker you will set it to high for 2 hours. If using the stove top version you will simmer on low until potatoes are fork tender.)
Let it sit for 10 minutes while the pressure naturally releases. Remove lid and add the unsweetened coconut milk stirring to fully incorporate and slightly smash the potatoes. (For slow cooker and stove top versions you can add the coconut milk just before serving.)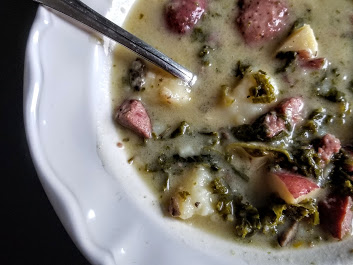 I have to admit, I was a bit worried about using kale in this recipe and thought about substituting spinach but the kale holds up so much better and doesn't get slimy. Also, I was worried that the coconut milk would give it a bad flavor combined with all the savory ingredients but I was so pleasantly surprised that I don't even taste the coconut. It's a great substitute for milk or cream.