Today I am sharing my ugly dresser makeover and I did it all with the Homeright Finish Max Sprayer. {Note: This post also contains affiliate links and you can read my disclosure here.}
Ugly Dresser Makeover Using the Homeright Finish Max Sprayer
I want to say thank you to Homeright for helping me with my ugly dresser makeover. I am sharing with you my own thoughts, words and opinions about an amazing company that provided me with the necessary tools to take this dresser from ugly to awesome. I am going to show you how I used the Homeright Finish Max Sprayer and the Large Spray Shelter  to give my dresser a much needed makeover.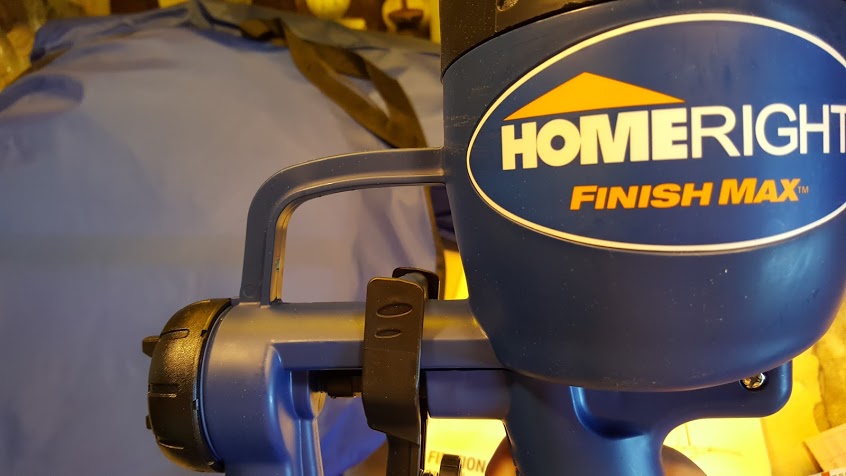 It should be no secret by now that I can't pass up an inexpensive flea market find. I always have ideas floating around in my head on how I can take a piece of trash and turn it into a treasure. When you throw in the added detail of it being solid wood and under $20 and that piece of trash is going home with me. That is exactly what happened with this beat up $7 dresser that sat in my garage for 3 months until I found the right spot for it in my house.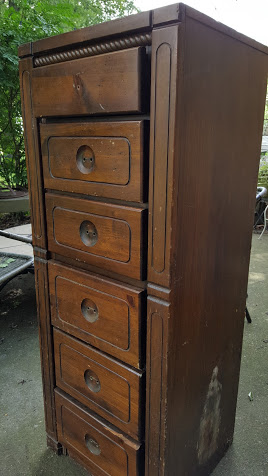 Finally, my youngest daughter declared that she needed the ugly dresser in her closet, not to mention that my husband was tired of it being in his garage and threatened to get rid of the trash treasure to the curb.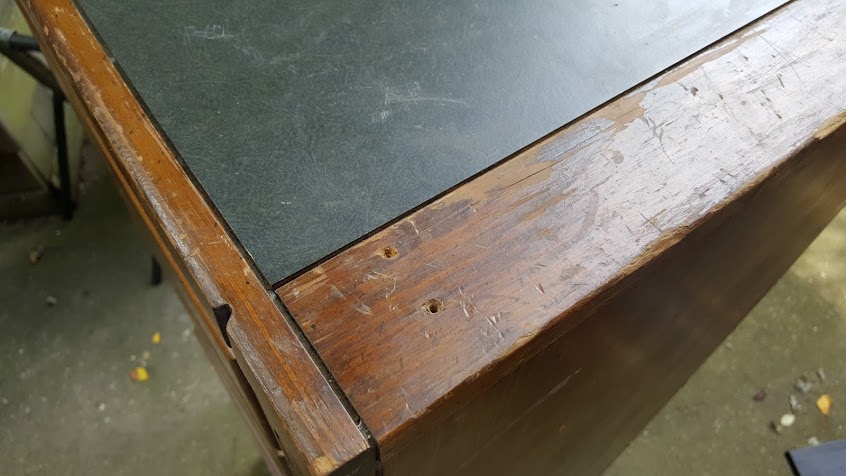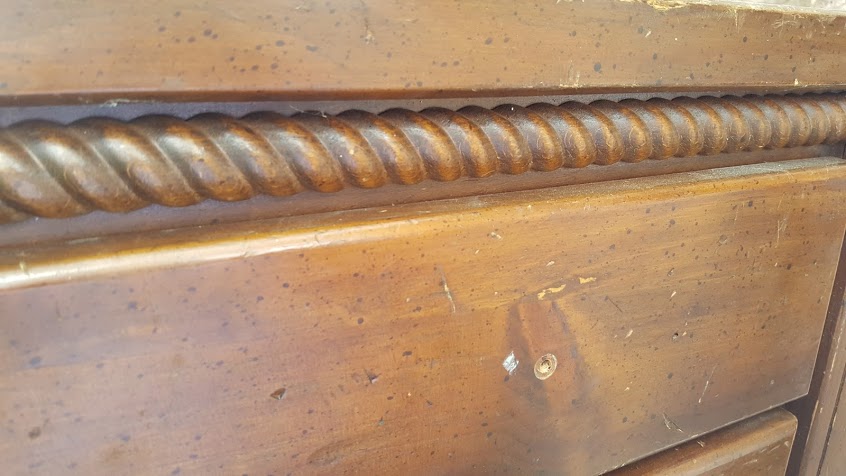 As with any tool, you need to read the instructions (sometimes more than once) and like the instructions state, I recommend you practice first on another piece of furniture and get to know the sprayer. The great thing about the Finish Max Sprayer is that you can use all kinds of paint, including chalk paint,  but you have to thin it out per the instructions provided so that you don't clog up the sprayer nozzle.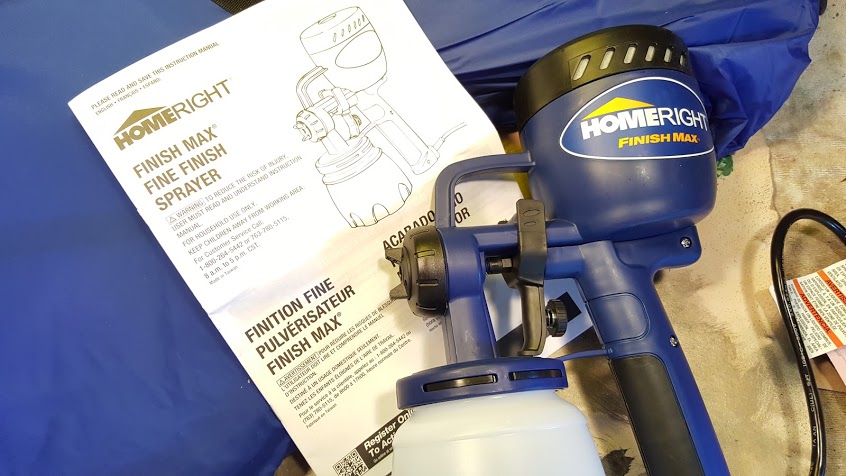 Not only does Homeright make this amazing Finish Max Sprayer that drastically cuts down the time spent painting but they also have these awesome spray shelters that keep the paint from spraying all over the place. In my case, my husband loves the spray shelters because I no longer paint our grass or garage floor various colors.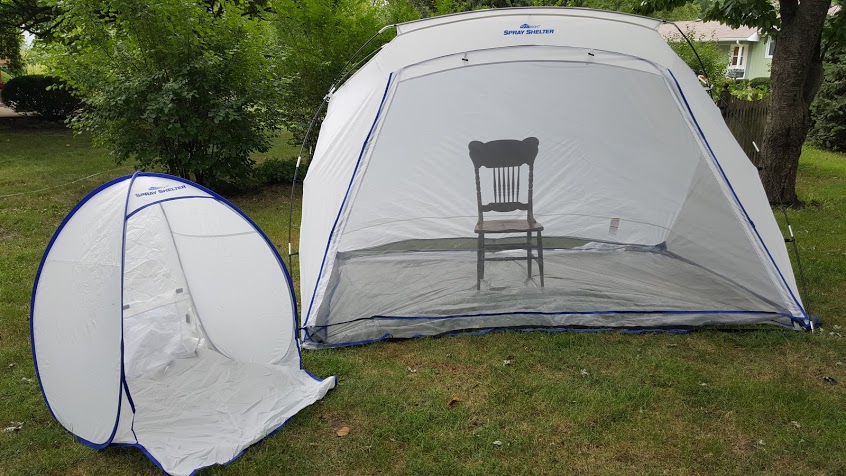 I put a chair in the larger shelter to give you an idea of the size. Basically, you insert extendable poles and set it up like a pop up tent. I am going to be totally honest here, the first time I set up the larger spray shelter it took two people to make it happen.
I used the small spray shelter when I made my Faux Metal Angel Wings and it requires no assistance with set up. The small spray shelter is so easy to use that it almost set itself up.
I was surprised that the larger spray shelter didn't come with a floor cover but I put down my own plastic drop cloth that I had in my DIY stash and all went well with no paint on the grass. As you can see, I practiced on an old chair before I attempted to tackle the dresser.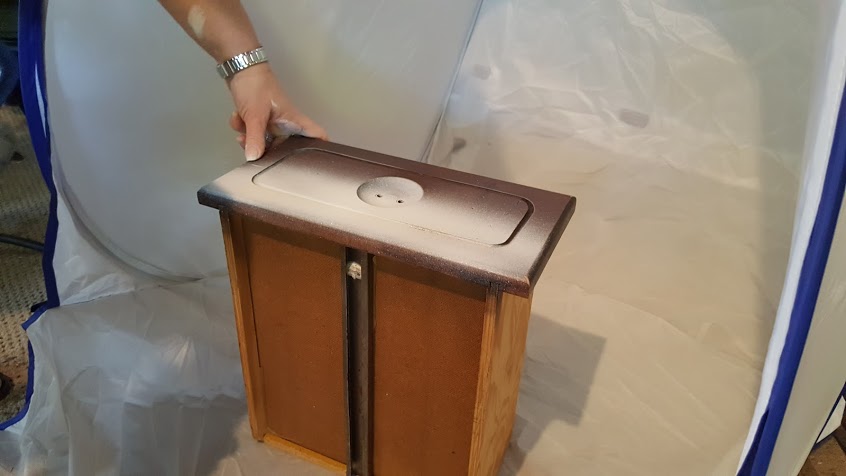 Once I finished the main body of the dresser in the larger spray shelter it started to get dark and I had to paint the drawers in the smaller spray shelter that I set up in the garage. Once again, my husband was very happy that I didn't get paint on the garage floor.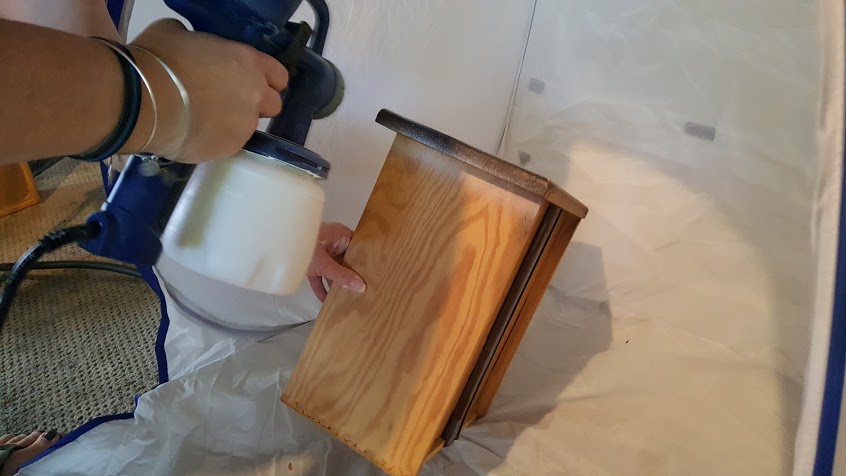 My love and excitement for the Homeright Finish Max Sprayer and Spray Shelters grew exponentially when my project was painted within 2o minutes. Yes, I would have never been able to do that with a paint brush. Here is the finished ugly dresser makeover with my daughter's cat perched high on top.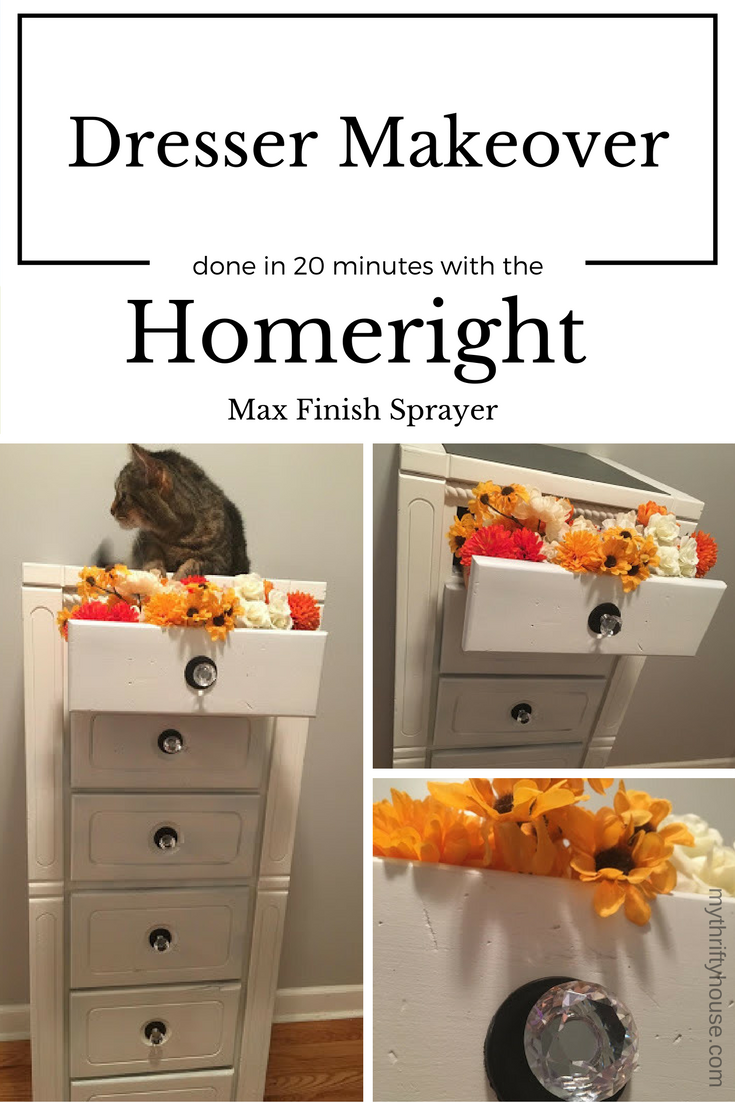 Here is the really fun part of this post. Below you will see all of the projects my friends have created using their Homeright Finish Max Sprayer. I have to say, my DIY friends are so creative!