For 27 years my husband has talked about the southern food he grew up eating and his mom's fried salmon patties (aka salmon cakes) come up often in conversation. As a city girl, this is my healthy twist on oven baked salmon patties. My Whole30 Key Lime Salmon Patties are served up with a side of homemade dill sauce that are both delicious and healthy.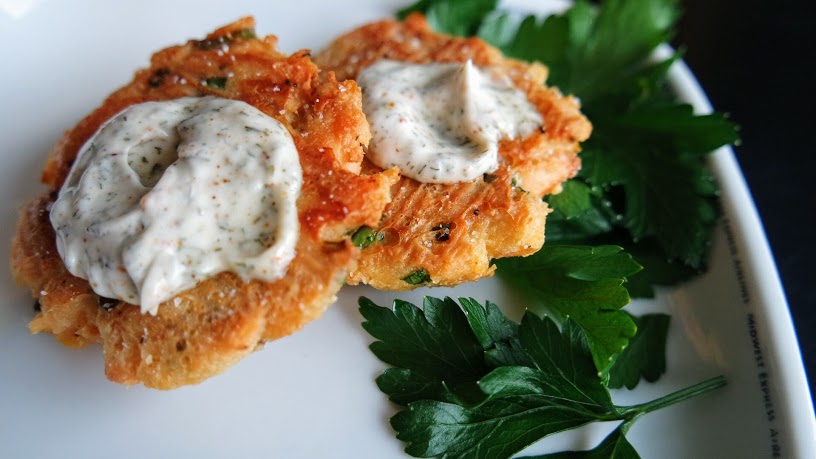 For the longest time, I had convinced myself that canned tuna and smoked salmon were the extent of having fish in my diet and I was doing ok with not expanding my seafood horizons any further. Then I went to a dinner party and the option was steak or grilled salmon and anyone that knows me knows….I would never choose the steak option. Much to my surprise, grilled salmon was amazing and it completely kicked open the door to my seafood loving world.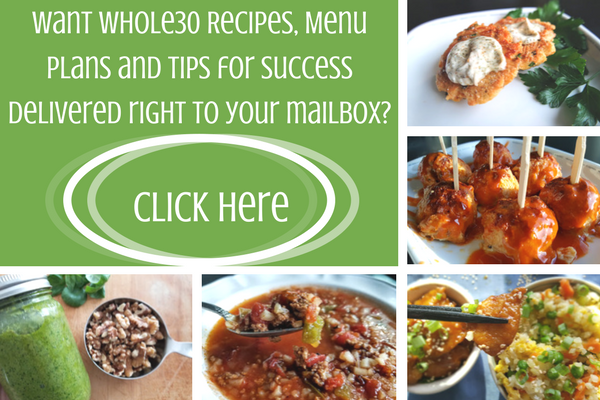 Tuna steaks, Chilean Sea Bass, Tilapia are all a regular part of my diet as well as salmon in any form. I am quite happy to say that my children have also enjoyed the fact that I have added fish to our diet and we eat it at least twice a week.
So let's get back to these no fuss Whole30 Key Lime Salmon Patties which really aren't anything spectacular in the culinary world but they remind me of when we lived in Florida and the commissary sold Key Lime Crab Cakes for $1 each. It has been 13 years since we lived in Florida but we still talk about those Key Lime Crab Cakes.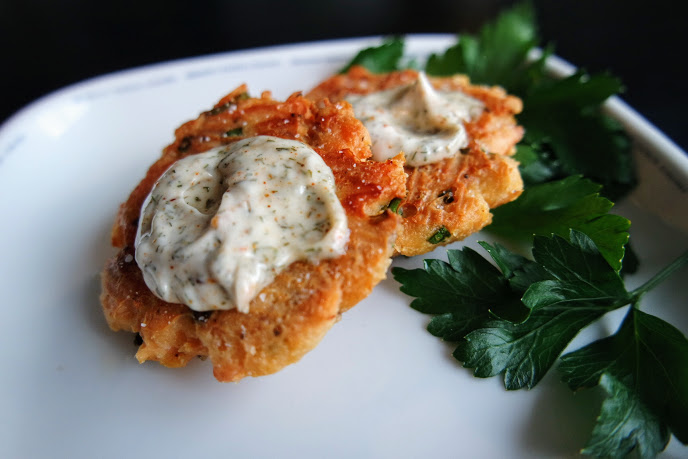 Anyway, I had a salmon filet that was heavily sprinkled with lemon pepper and baked in the oven. We ate some of it but a good portion was left over and that's when it hit me that I could make salmon patties much like the Key Lime Crab Cakes we loved in Florida by doing a recipe mash-up of the two. My mother in law's recipe calls for canned salmon but I much prefer fresh salmon which I already had on hand and I added a twist to the recipe by adding some key lime juice and zest.
As an added challenge, I needed to make something as delicious as my mother in law's salmon patties but also keep them Whole30 compliant. Challenge accepted.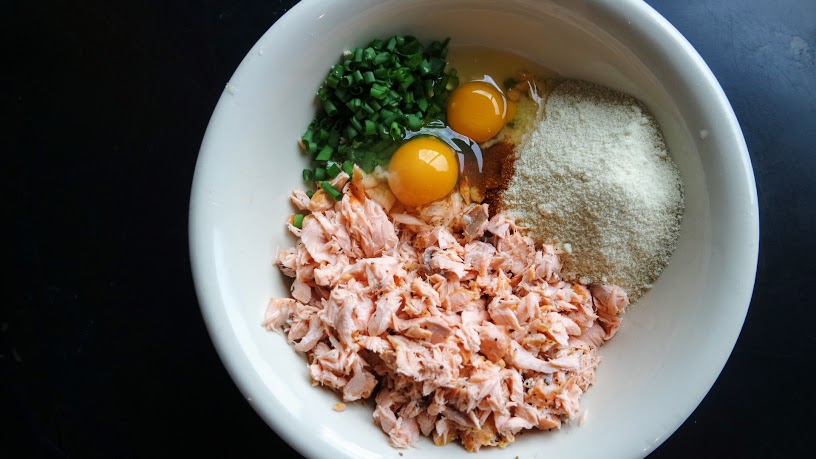 Ingredients for Whole30 Key Lime Salmon Patties
2 cups of baked salmon (canned salmon can be substituted)
2 eggs
1 tsp of Old Bay Seasoning
1/2 cup of chopped green onions
1/4 cup of fresh finely chopped parsley
1 cup almond flour
zest and juice of one small key lime
There is nothing fancy about combining these ingredients. Put them in a bowl and use your hand to mix everything until the wet and dry ingredients are incorporated.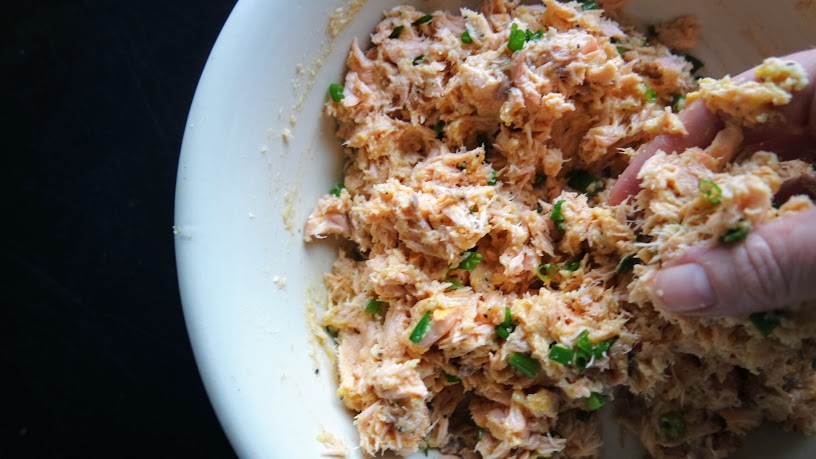 Now the patties I remember in Florida were huge, as in burger size huge, and I tried to recreate what I remembered but I found smaller is better with this recipe. Regardless, I made big and small salmon patties and they both tasted awesome but smaller was more like finger food and easier to eat.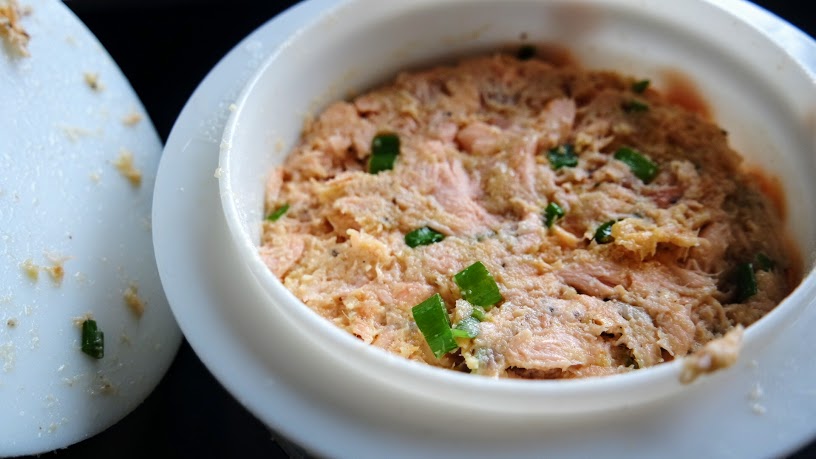 I baked my salmon patties on a cookie sheet lined with parchment paper for 20 minutes at 350 degrees. Then I fried them in avocado oil in a cast iron skillet to give them a little crispiness on the outside.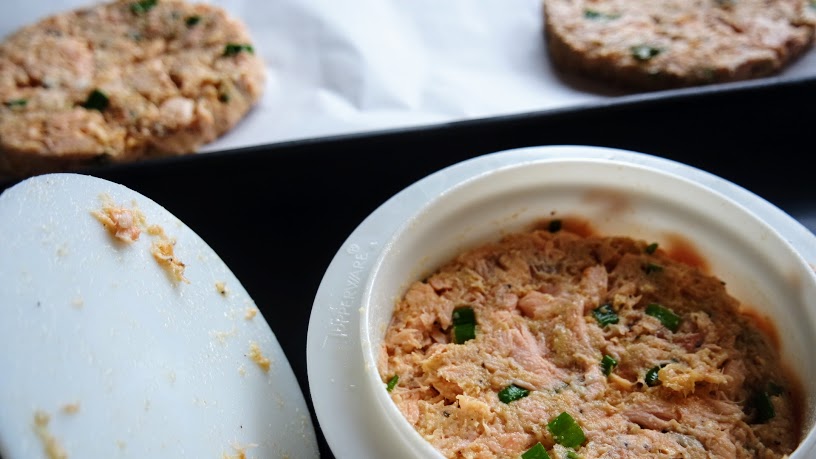 You could actually get away with frying them completely and skip the baking process but I didn't want them to be heavily saturated in oil. By baking them in the oven first the salmon patties were able to set and hold together with the egg and almond meal as the binder.
Instead of tartar sauce I made a simple dill sauce homemade mayo, dill, dried red peppers, paprika and cayenne pepper powder and tiny bit of the lime zest. Just enough flavor and heat to sit on top of my salmon patties.
Needless to say, my husband loved them and said my Whole30 Key Lime Salmon Patties reminded him of his mom's salmon patties and that is a true compliment.