disclosure hereEach month I team up with my blogging friends and share a craft project with you made from supplies I have been hoarding collecting.  We call it the Craft Room De-Stash Challenge. This month I am sharing my DIY twig flower vase that I made with some broken branches and a glass vase. 
I can't even tell you how quick and easy this twig flower vase project was and the fact that my sweet hubby did all the work makes me love it even more. He is the best at executing the crazy ideas that are trapped in my overwhelmed, creative brain.
*This post contains affiliate links and you can read my disclosure here.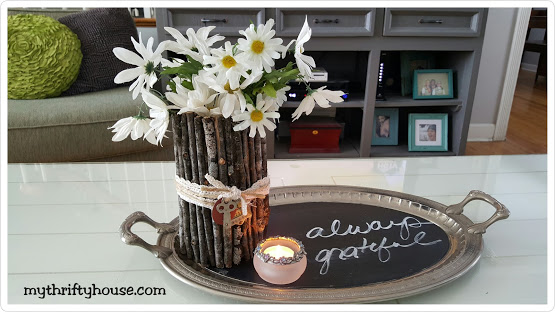 A couple of weeks ago we had a huge wind storm that covered our yard with broken branches and twigs. My hubby was doing a yard clean up while I was working trolling the internet and I came across some cute and easy twig projects on Pinterest.
I absolutely love adding an element of nature to my décor and what better way than to recycle, reuse and repurpose what you already have on hand?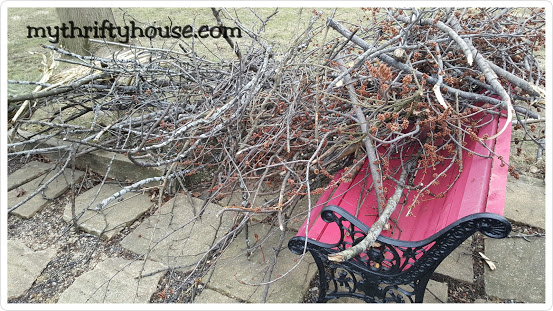 Twig Flower Vase Supplies
*This post contains affiliate links and you can read my disclosure here.

Easy Twig Vase Directions
Gather your sticks, lots of sticks, in a variety of sizes with the bark in the same shade or tone. We opted to go with the gray tones since that is a color used predominantly throughout our house.

You'll need a glass vase and it doesn't have to be a cylinder (which would be easiest) but I do have a square vase I will use for my next project.

Wrap your vase with the burlap (or dark fabric) and use the hot glue to adhere it to the vase. You want to use a dark fabric color because there will be gaps in between the irregular shaped twigs and a light color will show through the gaps.

Trim the twigs the length of your vase with the cut end at the bottom which helps it maintain a flat, stable bottom surface.

Hot glue the twigs around the vase concentrating on keeping your twigs as straight as possible so you don't get a slanted pattern. You can overlay smaller twigs to fill in the gaps.

Wrap with twine and add your accent pieces. I wrapped a pieces of twine and lace around the twigs to add some contrasting texture and help keep the twigs securely in place. I also added two tags and a vintage key from my flea marketing stash.

For more inspiration, keep scrolling down and take a peek at what my crafty friends have done with their craft supplies.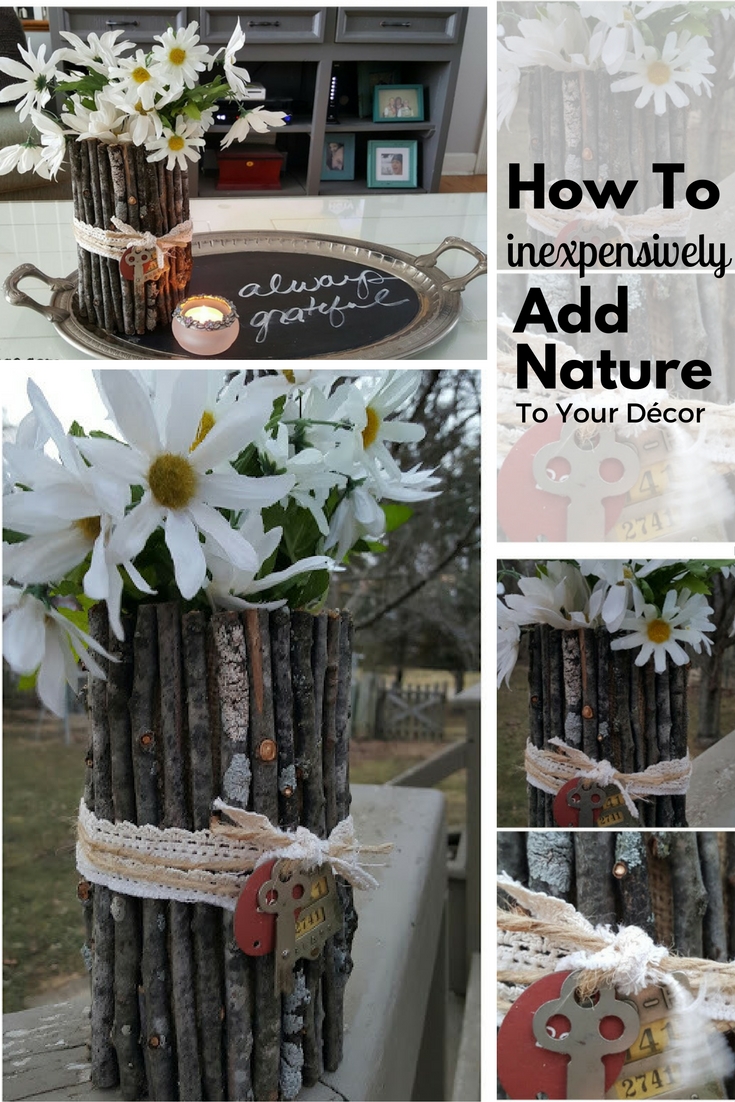 Every month a group of bloggers are challenged by C'mon Get Crafty to create a new craft or project from their own stash of goodies! Check out some awesome creations you might be able to make from your own stash! #CraftRoomDestashChallenge


Seen by 22