As one of 30+ bloggers participating in the Thrift Store Décor Challenge this month, I am excited to share how I made this awesome chair bench with 3 dining room chairs. When you get to the bottom of this post you will be treated to some serious creativity so please hop around to each blog and get to know us.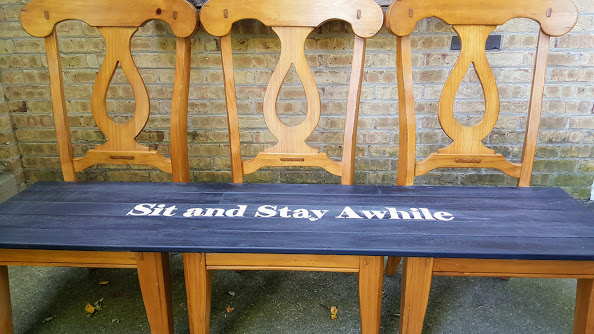 The Rules:
Upcycle an item(s) from a thrift store, resale store, or garage sale into a new piece of decor.
There's no monthly theme.
There's no budget to stick to.
Meet the Hosts
Amanda | The Kolb Corner    Erlene | My Pinterventures    Kim | Made in a Day
Dru | Polka Dot Poplars    Maureen | Red Cottage Chronicles    Pili | Sweet Things
Shirley | Intelligent Domestications    Debra | Shoppe No. 5    Marie | DIY Adulation
Chelsea | The Johnsons Plus Dog    Jes | My DIY Envy    Ann | Duct Tape and Denim
Molly | Just a Little Creativity    Ashley | 3 Little Greenwoods    Kimm | Reinvented
Kim | Farmhouse Made    Victoria | Dazzle While Frazzled    Sara | Twelve on Main
Chelc | Inside the Fox Den    Sue | A Purdy Little House    Michelle | Our Crafty Mom
Sherry | Savvy Apron    Jennifer and Vicki | 2 Bees in a Pod    Lora | Craftivity Designs
Ali | Home Crafts By Ali    Denise | My Thrifty House    Colleen | Life on Kaydeross Creek
Toni | Small Home Soul    Jeanie | Create & Babble    Michelle | Michelle James Designs
Make sure you follow our board on Pinterest for more upcycled decor inspiration!
How to Make a Chair Bench with Dining Room Chairs
My chair bench was made from 3 dining room chairs that were gifted to me by my friend Liz. She has a cute little junk shop in town but "little" is the keyword here. These big chairs were taking up a lot of room in her cute shop and she just didn't have the time to do a project with them so she kindly gifted them to me.

My rule of thumb with wood furniture is to paint it if it is heavily scratched or damaged. These wood chairs were in pretty decent condition other than the stained seat cushions and I opted to not paint them at the moment. After my hubby removed the stained chair cushions, he shimmed the chairs together and added some 1 x 4 boards across the three chair frames to make the bench.

I painted the bench seat with 2 coats of flat paint and decided that I wanted to stencil a saying across the seat. Since the surface was a dark color the stencil transfer was going to be a bit more challenging as I couldn't use graphite paper.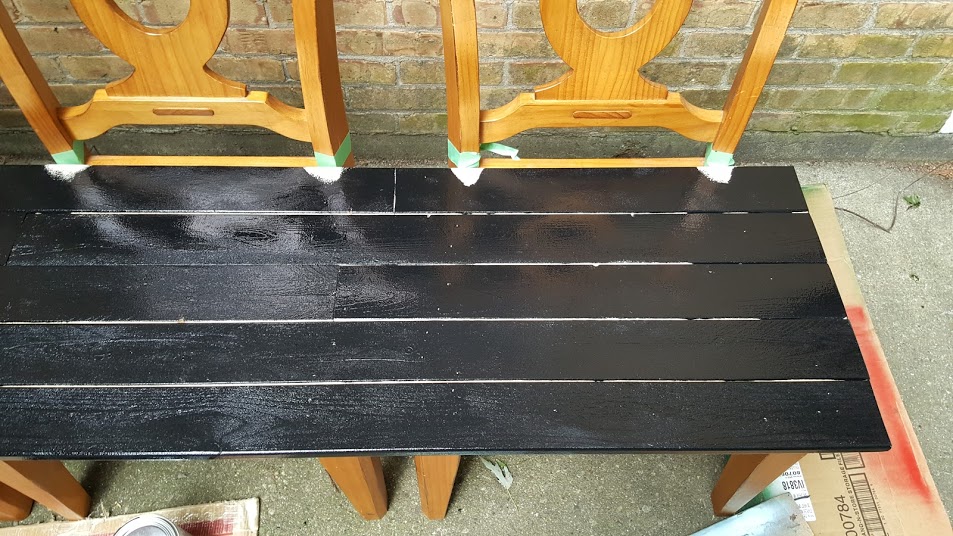 I printed my saying using a banner template on Microsoft Publisher and rubbed the back of the paper with a piece of chalk.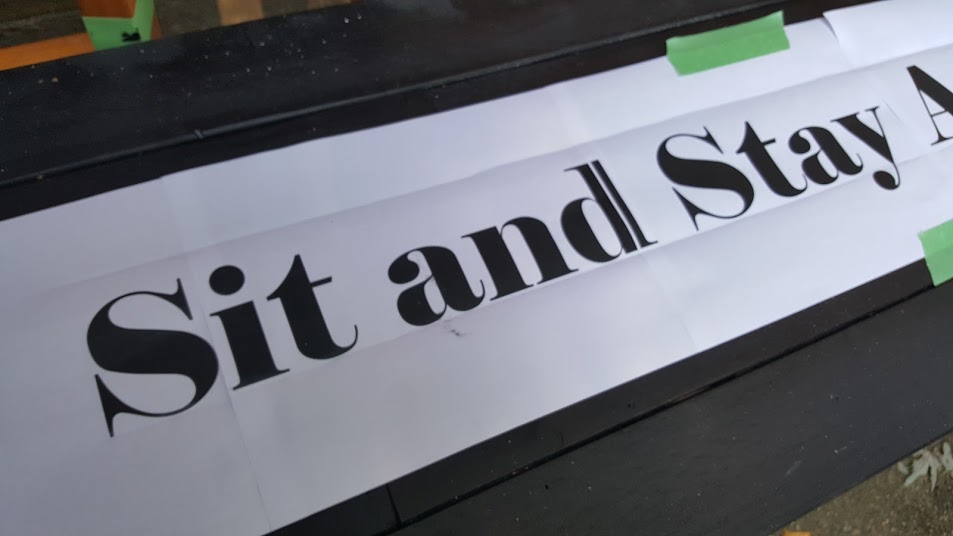 After I centered my banner on the bench I taped it using painters tape. Then I took a pencil and traced around each letter on the sign which then transferred the chalk outline onto the chair bench seat.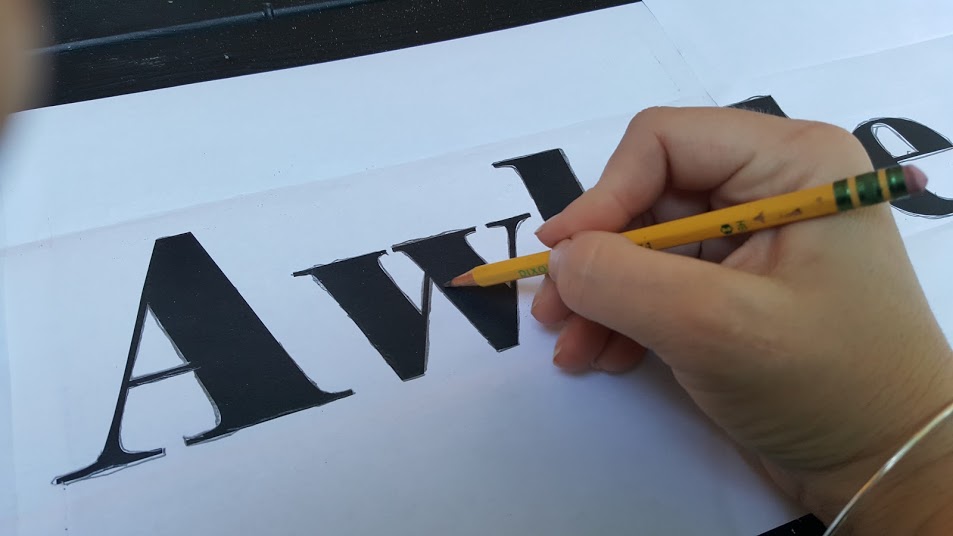 Then I took some of my homemade chalky paint and filled in the transferred chalk outline. I have to disclose that I do not have a steady hand and I am the worst at painting details. Probably explains why I am so drawn to the chippy, shabby imperfections of the farmhouse look.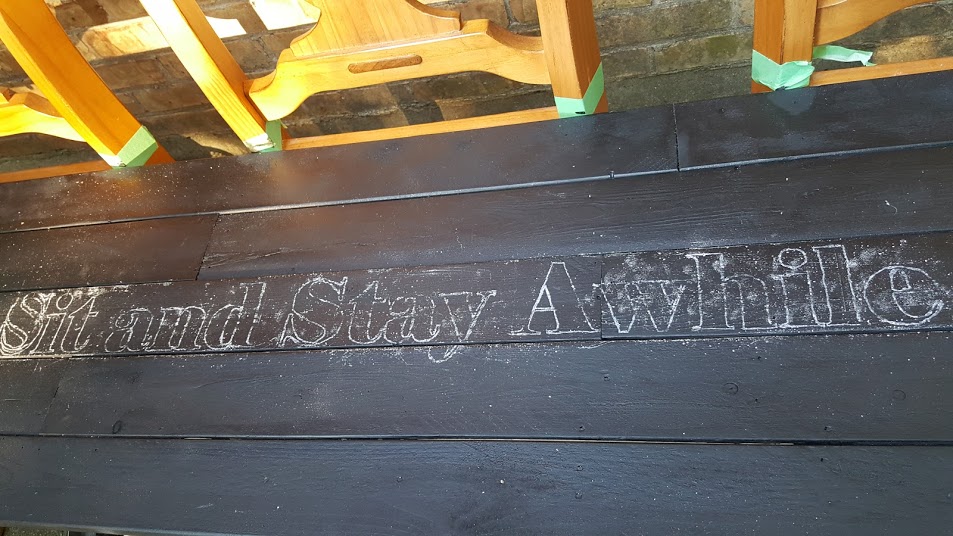 After I painted the letters I lightly distressed the bench with some sandpaper. Since my saying  is "Sit and Stay Awhile", I wanted it to look like the words had been there for some time and many people have enjoyed sitting on the chair bench.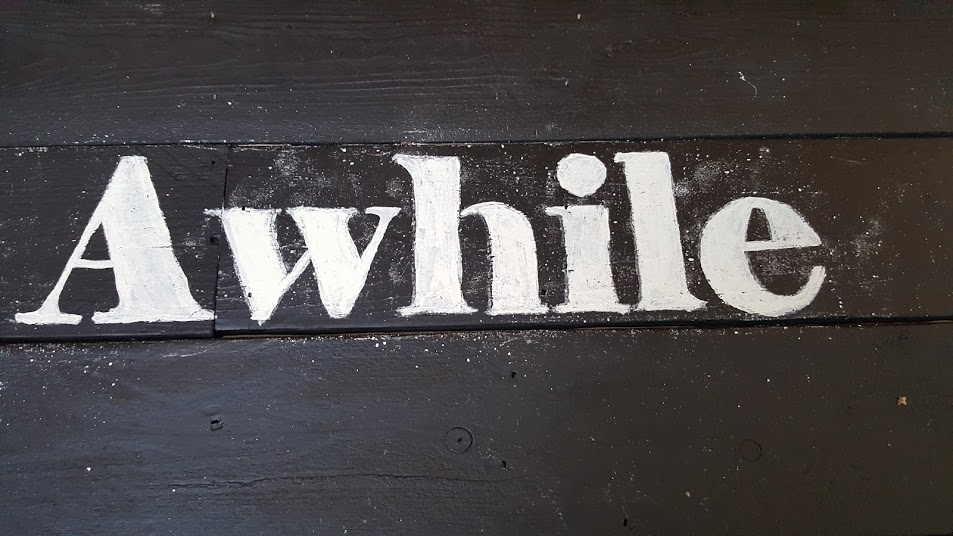 I really do like the completed chair bench but I am going to be giving this bench to a friend and she can let me know if she would like the chairs painted or left as natural wood tone. Stay tuned, this might not be the end of this project.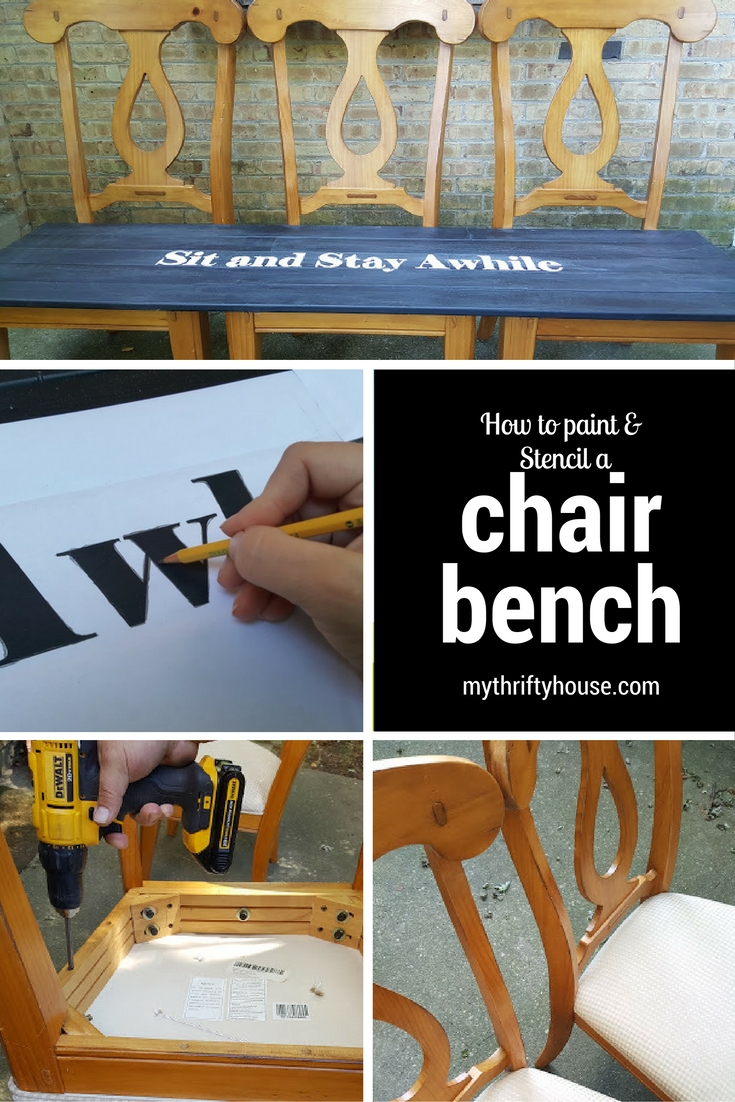 And now for more thrifty goodness…check out what my fellow upcyclers created below!