As I was cleaning out my craft supplies, I found a styrofoam wreath form and a torn wool scarf. I instantly had the idea to marry the two items and create this beautiful wool scarf wreath for my front porch.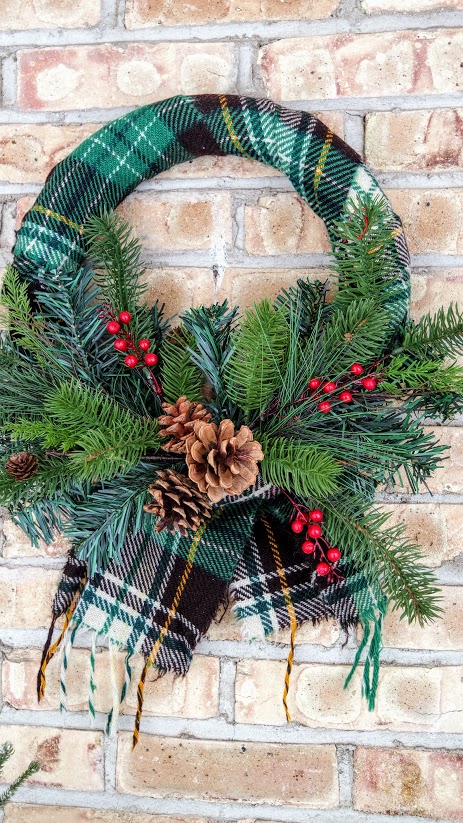 As one of 20+ bloggers participating in the Thrift Store Decor Challenge, I am excited to share with you my upcycled wool scarf wreath. When you get to the bottom of this post you will be treated to some serious creativity so please hop around to each blog and get to know us and our thrifty goodness.
The rules are simple:
Upcycle an item(s) from a thrift store, resale store, or garage.

There's no monthly theme so get creative.

There's no budget but the thriftier the better.
Meet the Hosts
Angela | Simply Beautiful By Angela – Heather | Glitter On A Dime Amanda | Domestically Creative – Michelle | Our Crafty Mom Jenny | Cookies Coffee and Crafts – Ali | Home Crafts by Ali – Lynn | My Family Thyme – Emy | Semigloss Design – Angie | Flippin Fanchers – Denise | My Thrifty House – Michelle | Michelle James Designs – Debra | Shoppe No 5 – Habiba | Craftify My Love – Victoria | Dazzle While Frazzled – Ann | Duct Tape and Denim – Molly | Just a Little Creativity – Morgan | Charlston Crafted – Meredith | Southbound Blog
Make sure you follow our board on Pinterest for more upcycled decor inspiration!
---
Don't Throw Away that Old Wool Scarf!
As you can guess by looking at my never ending DIY project list, being thrifty often has me holding onto things that I hope to recycle, reuse and repurpose. I held onto a torn, wool scarf because I adored the green plaid pattern and it came from a family member that has since passed away.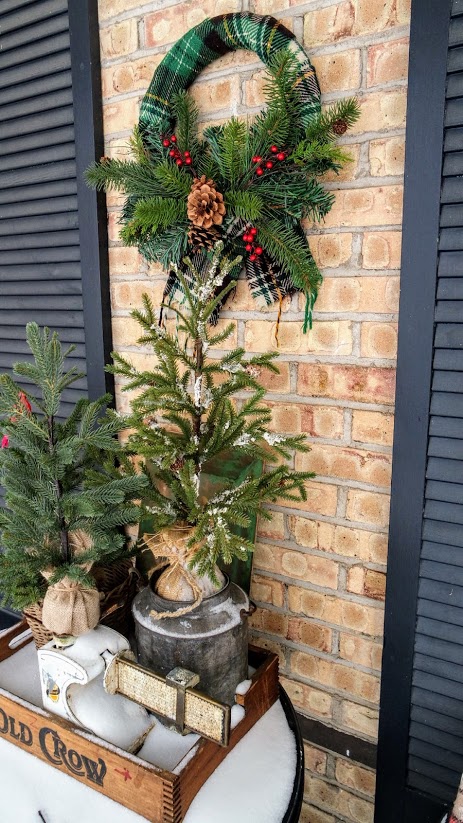 Have you noticed the black and green trend happening this last year? Yes, me too and I am loving it. Green is a color that can be used beyond the Christmas holiday season and makes a nice transition to winter decor.
Take a look outside and you will see that Mother Nature fills our world with shades of green as a neutral backdrop to her rainbow of colors.
Anyway, back to this upcycled wool scarf wreath that literally took me minutes to make. It was torn on one end and luckily the tear was right in the middle so I just pulled it and let it rip right in half.
Wool Scarf Wreath Supplies
Assembling the wreath was very easy because I literally wrapped it around the wreath form and secured it with the floral pins. No glue, no sewing and no special adhesive.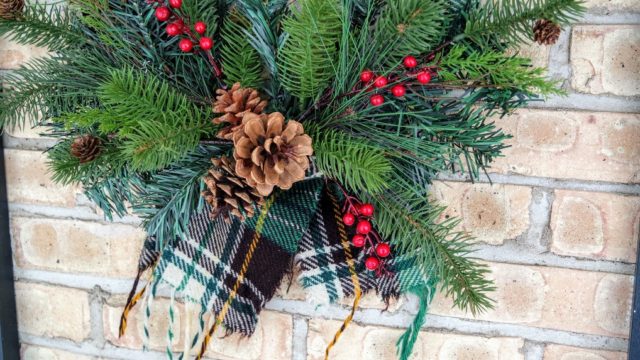 I started at the bottom of the wreath and left approximately a 4-6 inch tail, leaving the fringed end as the tail. Then while I was wrapping the scarf around the form I made sure each section was evenly overlapping the next section. I left it lumpy and scrunched up but firmly secured each wrapped section with a pin on the backside of the wreath.
Once I got back to the starting point, through the magic of creative pinning, I made the it look like the scarf ends were tied together.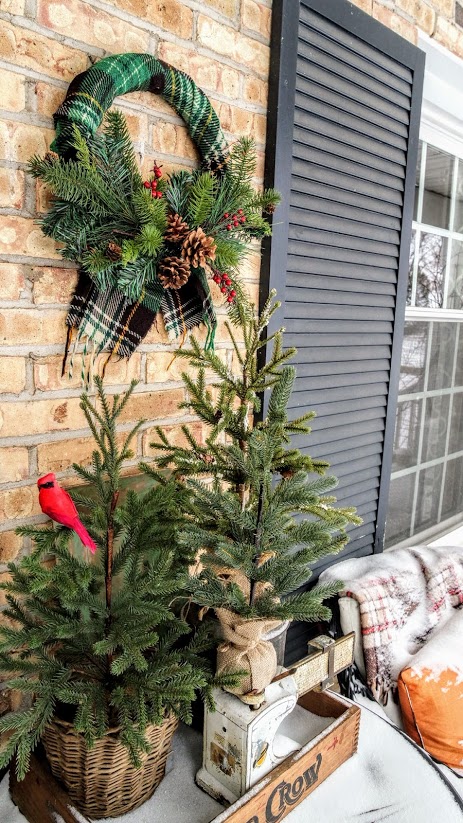 Then I added some pine floral picks and pine cone embellishments from my craft stash to finish off my upcycled wool scarf wreath and hung it on my front porch.
Pro Tip: The thrift store is a great place to find inexpensive craft supplies.
Additional Inspiration
Below are some additional winter wreath ideas. Click on any of the pictures for more details.