Come on peeps- I know that I can't possibly be the only person hesitant to update Longaberger baskets but I am here to tell you, don't be afraid and just do it. You will be happy with the end results no matter what medium you use to update your baskets.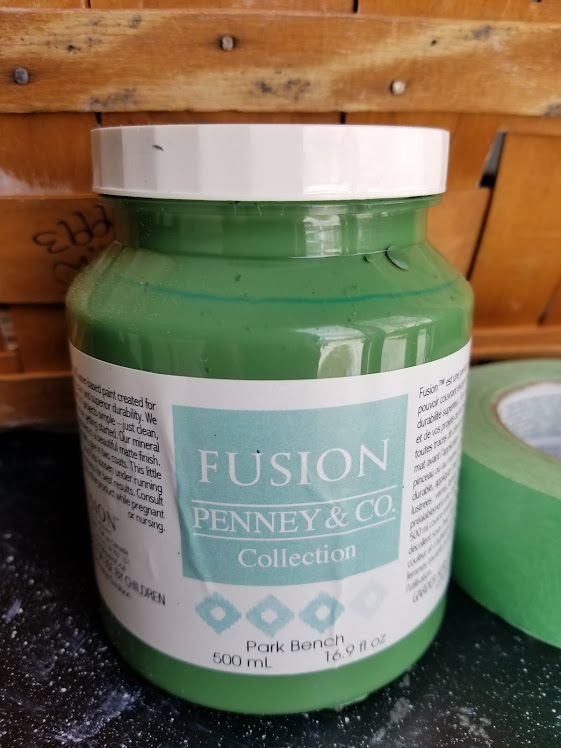 As one of 20+ bloggers participating in the Thrift Store Decor Challenge, I am excited to show you how I updated my Longaberger baskets with some stain and paint.
The Rules:
Upcycle an item(s) from a thrift store, resale store, or garage sale 

There's no monthly theme.

There's no budget to stick to
Meet the Hosts
Angela | Simply Beautiful By Angela – Angie | Grandma Creates – Meredith | Southbound Blog – Amanda | Domestically Creative – Molly | Just a Little Creativity– Jenny | Cookies Coffee and Crafts – Michelle | Michelle James Designs – Marie | DIY Adulation – Pili | My Sweet Things – Gail | Purple Hues and Me – Denise| My Thrifty House – Emy | Semigloss Design – Michelle | Our Crafty Mom – Lynne | My Family Thyme – Chas | Chas' Crazy Creations – Kathleen | Our Hopeful Home Carmen |  Living Letter Home 
Make sure you follow our board on Pinterest for more upcycled decor inspiration!
For those that don't know the history on these baskets, back in the 1990's Longaberger baskets were a huge part of the home party scene and they weren't cheap which was the fuel behind my hesitation on updating my baskets.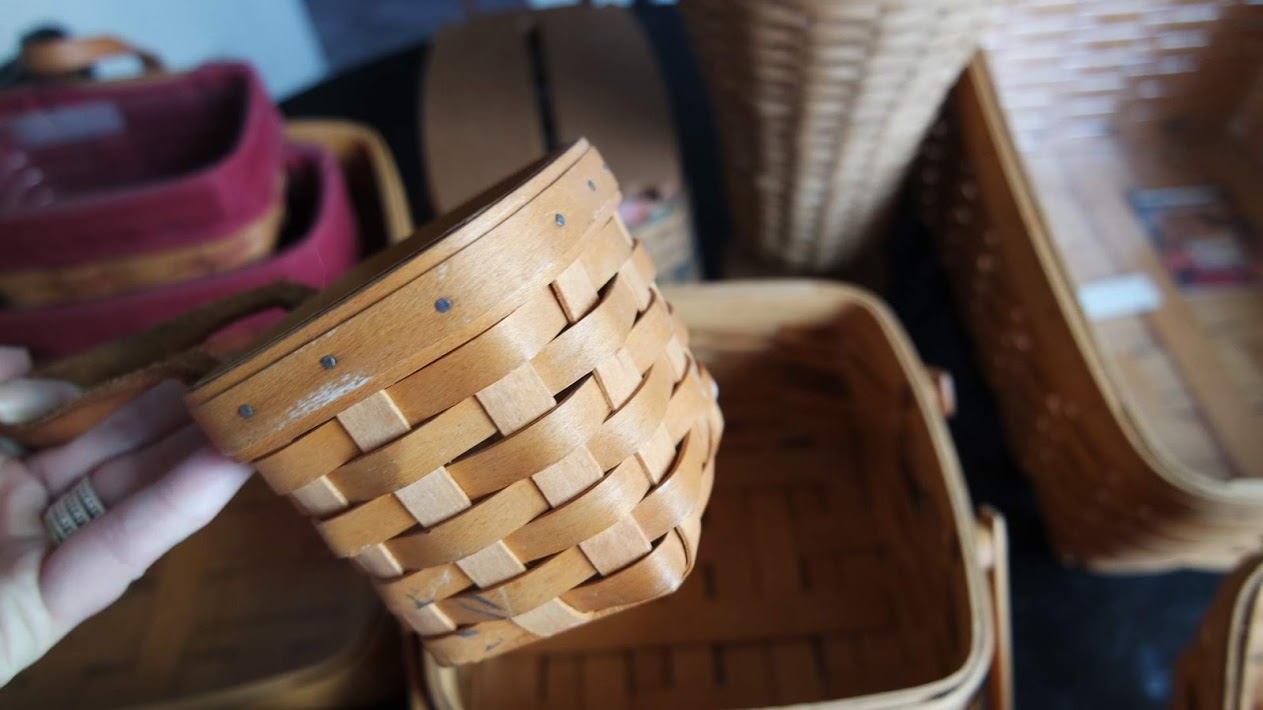 The baskets were homemade using maple splints that are durable, functional and age well with use. We were told brainwashed into never altering or updating the baskets because it would affect the value of the basket. 
Fast forward to 2019, the Longaberger basket company has gone bankrupt and the baskets have never increased in value. You can find them for a few dollars at garage sales, the thrift store or on Facebook Market Place.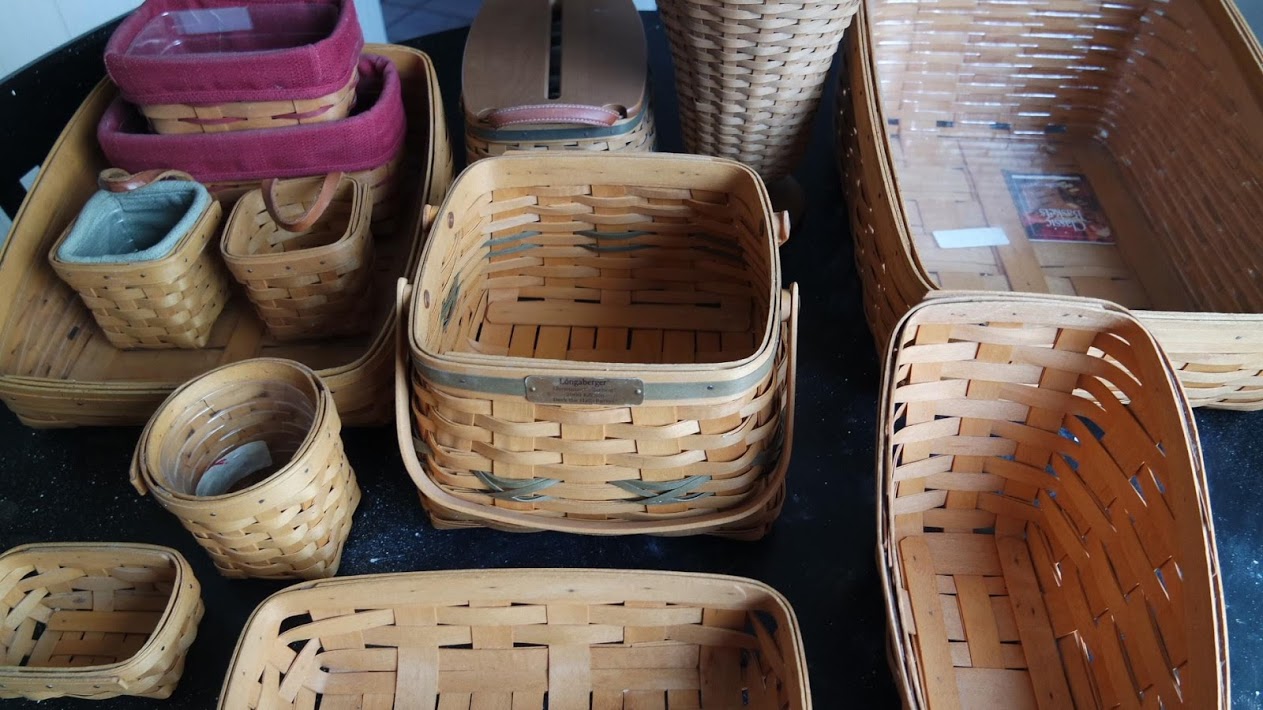 Here's the problem. I now have way too many of these beautiful baskets packed away and not being used in my house because the orangey color of the stain totally clashes with my decor. 
I love, love, love the design and functionality of these baskets but it was time for me to get brave and not be afraid to update Longaberger baskets.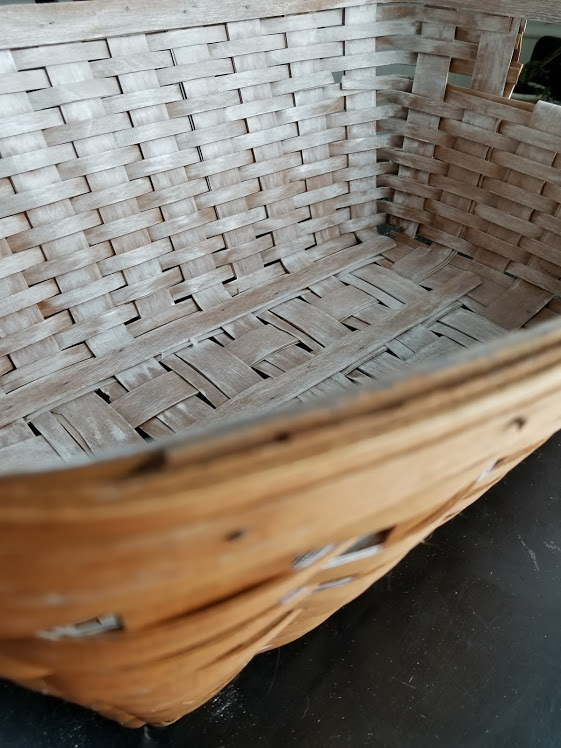 Before I started updating my expensive basket collection, I picked up a broken laundry basket at a garage sale for $2. It had some broken splints but was still perfectly functional and a good "test" project.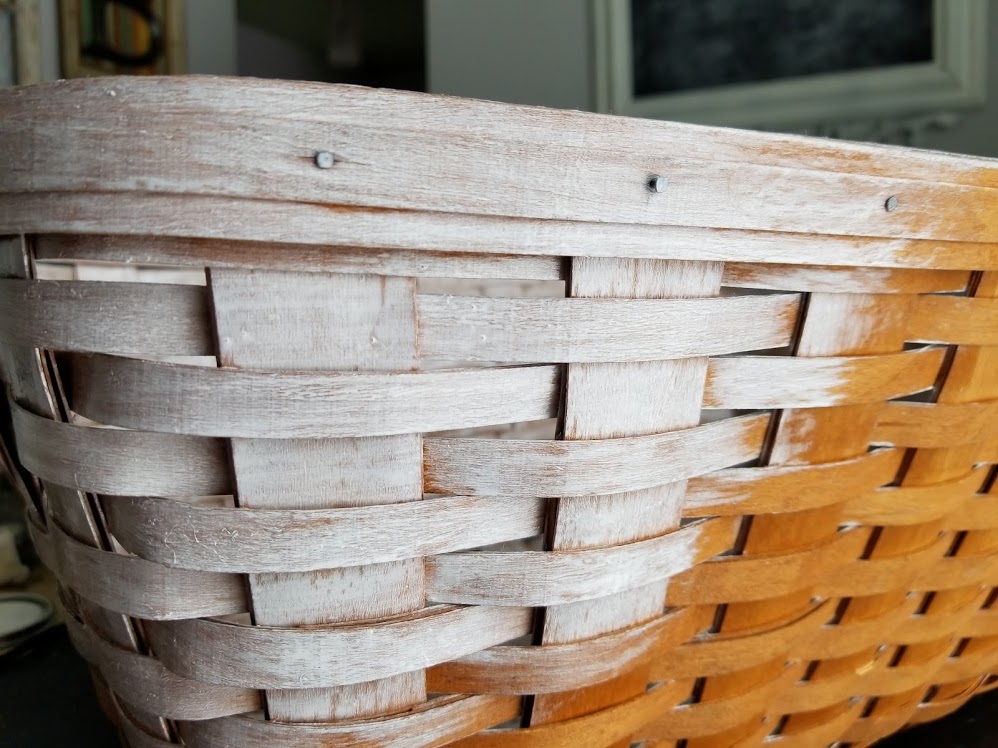 I lucked out and found a variety of stains on clearance at Walmart. I tested all 3 on the inside of the basket and decided to go with the white wash. 
Like a sponge, the basket soaked up the first coat and dried quickly. I loved the results of the orange stain being covered and you could faintly see the wood grain.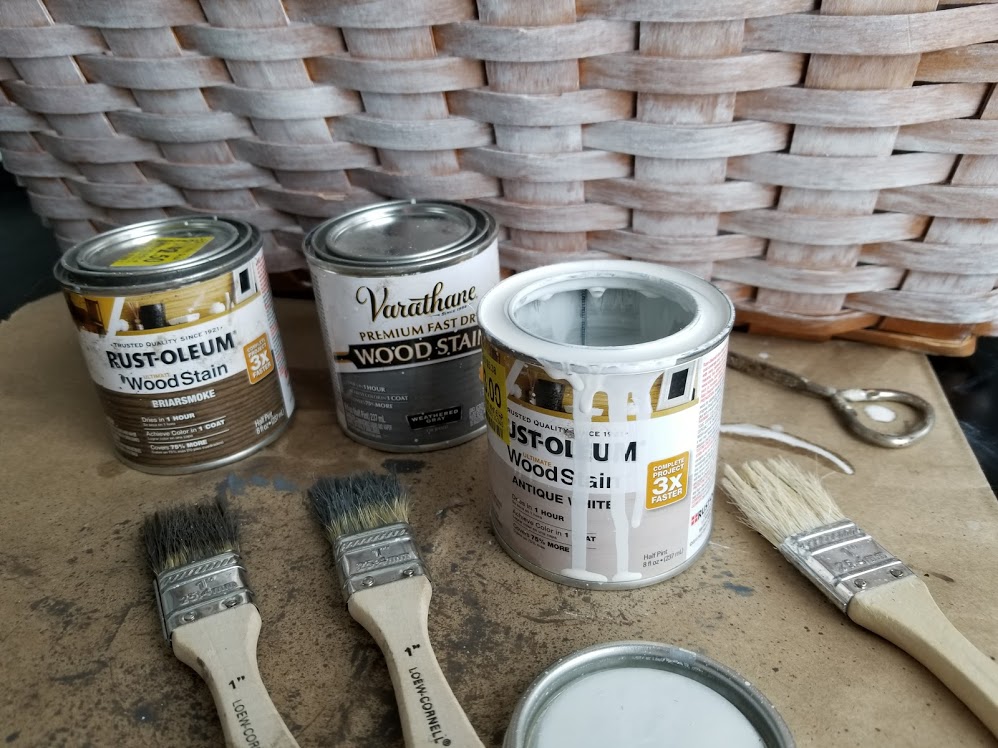 Next I used my stencils along with my favorite green paint, Park Bench from Fushion Mineral Paint, and added the word "wash" to the front of the basket. After the green paint dried, I lightly distressed it with some sandpaper.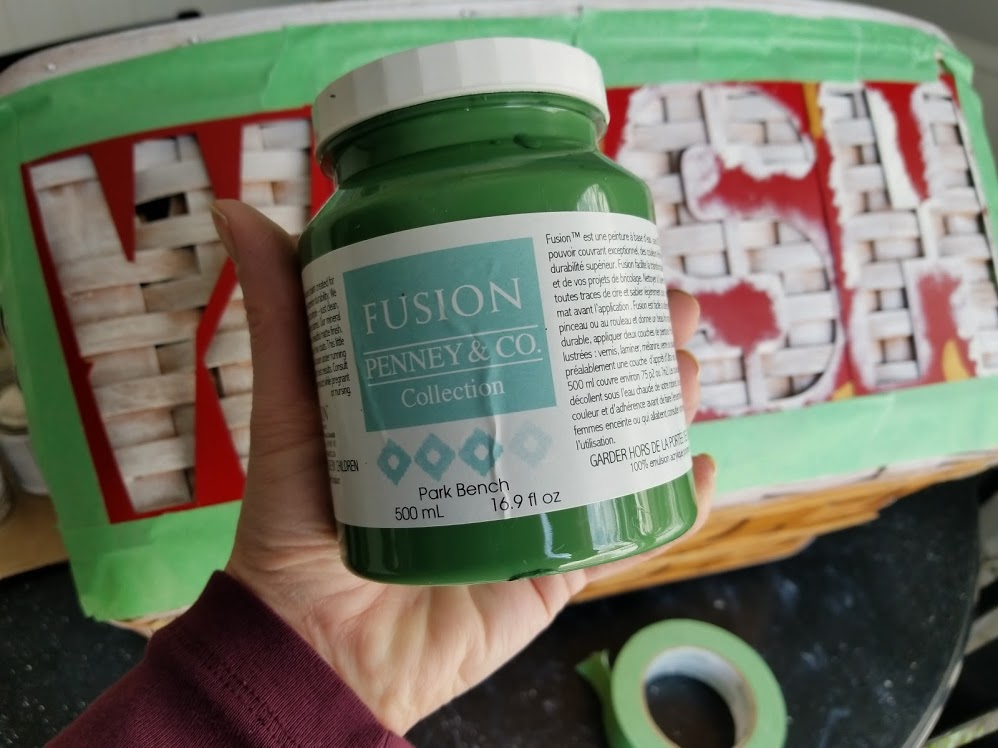 After this successful experiment, I am ready to pull all of my baskets out of the closet and decoratively organize my whole house. I am definitely not afraid to update Longaberger baskets anymore.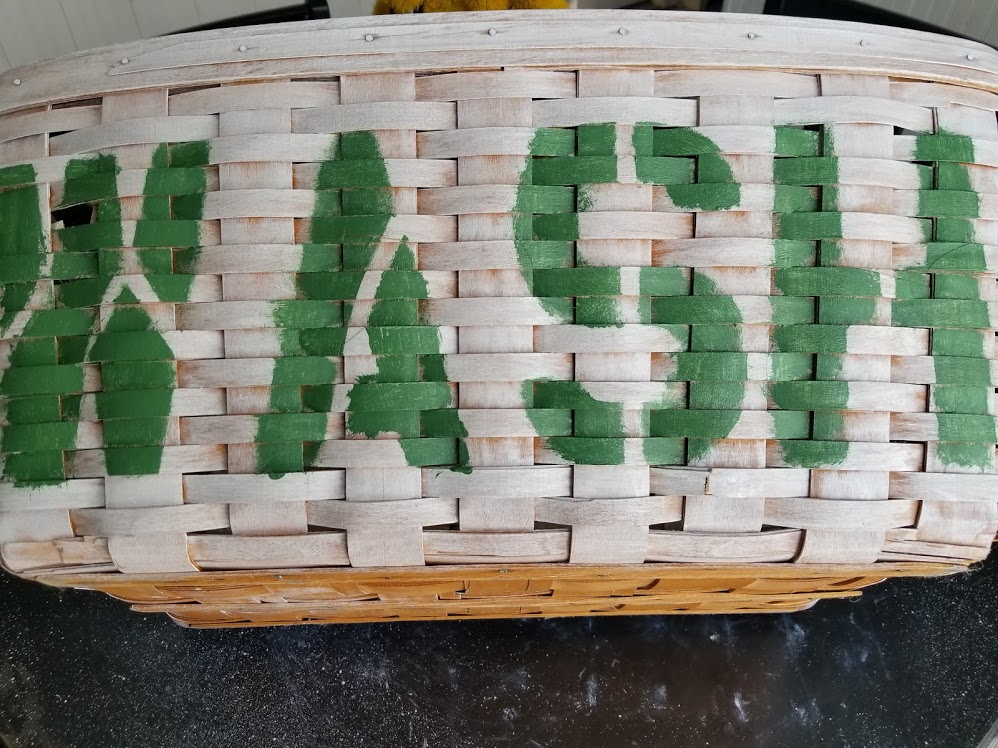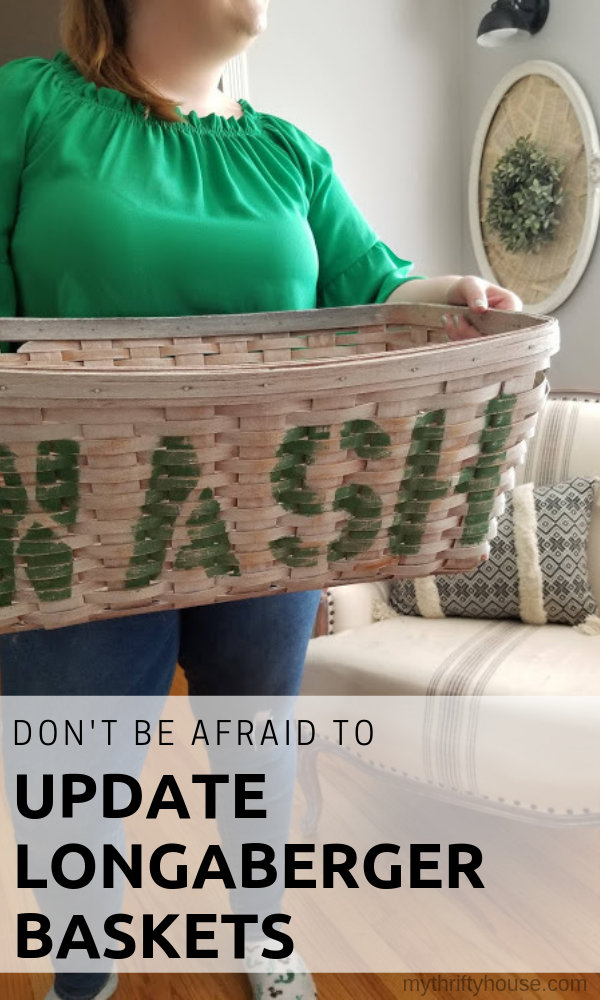 Thanks for visiting but please continue to scroll down and check out all the DIY goodness shared by my talented friends.