Easy and Delicious French Toast Casserole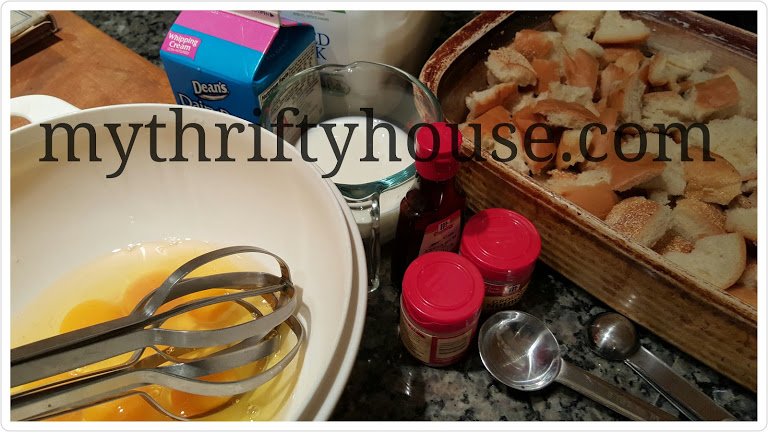 I have a confession….I can't follow a recipe to save my life. I love to cook and try new recipes but I typically look at multiple recipes for the same dish and do what I like to call a "recipe mash up" where I combine recipes and make my own version. This French Toast Casserole is a "mash up recipe" created from Paula Deen's recipe and the Pioneer Woman's recipe.
Ingredients for the French Toast:
1 large loaf of crusty bread (I used Italian)
8 large eggs
2 cups of milk (I used 2% but whole is preferred)
1 cup of heavy whipping cream
2 tablespoon granulated sugar
1/4 tablespoon ground cinnamon
1/4 teaspoon ground nutmeg
1 teaspoon vanilla extract
dash of salt

Ingredients for the crumb topping:
1/2 cup of flour (I used wheat flour but white flour is preferred)
1/2 cup of packed brown sugar
1 teaspoon of cinnamon
1/4 teaspoon of salt
pinch of nutmeg (optional)
1 stick of cold butter, cut into pieces
Assembly and Baking Instructions:
Generously grease a 9×13 baking dish with butter. Tear bread into bite size pieces (or cut into cubes) and evenly fill the pan.
Mix together eggs, milk, cream, sugar, cinnamon, nutmeg, vanilla and salt. Beat with mixer or whisk until blended, not too bubbly. Pour evenly over the bread cubes and make sure all pieces are well covered with the milk/egg mixture. Cover tightly with foil and refrigerate overnight. (Yes, it will be soupy but don't worry, the bread will soak up all the milk/egg mixture.)
In a separate bowl, mix the crumb topping ingredients: flour, brown sugar, cinnamon, salt and nutmeg. Add cold better pieces and cut in until the mixture resembles small pebbles. Save this in a baggie until the casserole is ready for baking.
In the morning,  hurry up and preheat the oven to 350 degrees. Now for the magic! Remove the casserole from the fridge, sprinkle with crumb topping and get that baby in the oven. Bake for 45 minutes for a softer, bread pudding consistency or bake for 1 hour for a golden brown, firmer consistency. (I opted for the 1 hour cook time.)
Remove from oven and let it cool for 5 minutes. Scoop a GENEROUS spoonful onto your plate, top with a pat of butter (optional, but I never pass up on extra butter) and drizzle with syrup. Close your eyes and savor that yummy goodness.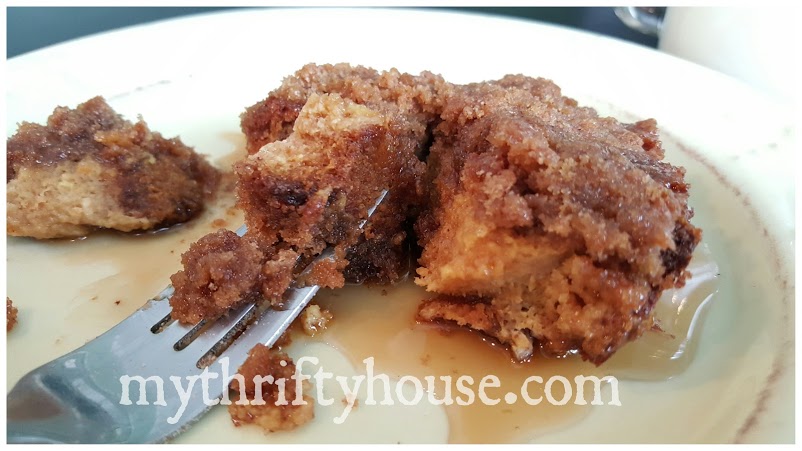 This French Toast Casserole is perfect for a brunch. All the assembly was the night before and putting it in the oven an hour before guests arrived was the easy part. (Loved not being a slave to the kitchen.)
If you have a chance to make my French Toast Casserole "mash up"  AND  you remember to take pictures, please share them on the My Thrifty House Facebook page.